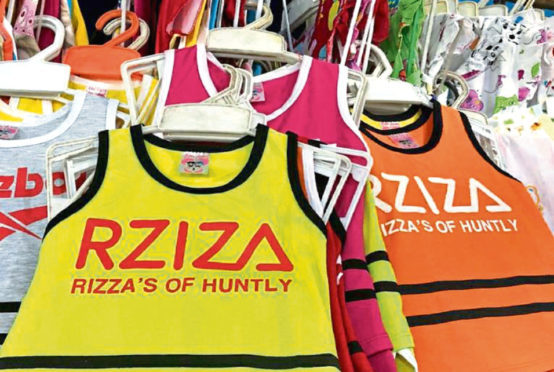 A north-east ice cream firm would appear to have made a name for itself in Cambodia.
Karen Pitt, who owns the Munchies ice cream van in Buckie, had been travelling around south-east Asia when she came across the familiar Huntly name.
A sports top and shorts with the words "Rizza's of Huntly" was found hanging on a rack in the Phnom Penh central market in Cambodia when Karen took the picture.
Went to central market this morning for a rake and found these ?? think the wifie thought I was mad taking a pic lol

Posted by Karen Pitt on Monday, 28 May 2018
Rizza's is a family-run business established by brothers James and Domenico in 1914 in Huntly.
Karen said: "Me and my husband Peter are currently travelling around the world and are in Cambodia.
"We were at the capital Phnom Penh and went to the central market to waste a few hours, the market is massive and there's loads of different parts to it so I honestly don't know how we came across it but we just walked round the corner and they were there.
"I can't believe it especially cause it had Huntly on it. The stall owner must of thought we were mad cause I was taking a picture and she was asking me if I wanted to buy it."
Katherine Brewer, sales and advertising co-ordinator for the company, said: "We had a couple from Buckie who used to run an ice cream van that bought Rizza's ice cream from us.
"They have been travelling in Asia and came across what looks like kid's sportswear with our brand name on it.
"Karen sent us the photo of the sportswear and said 'Your advertising is doing wonders'.
"Our first thought was 'Where did they get that from?' It's not like the brand is sold locally there.
"What makes it even more strange is that Huntly was spelled right.".
Katherine said once the picture was uploaded to its social media, people were just as confused as the Rizza's team was.
She added: "Someone even asked if this would be the new PPE for the factory workers and the uniform of those working in the stores.
"It was unique and quirky to come across since there is no other Rizza's of Huntly.
"We're in the process of rolling out our new logo soon, but unfortunately it won't be this one.
"And, unfortunately, you cannot get our product in Cambodia."