An African artefact used in a coming-of-age ceremony has gone on display for the first time in more than 70 years.
It has sat in the archive of Aberdeen University since it was donated in 1942.
The "net suit" was used in Angola and Namibia during celebrations of boys becoming men.
Children would be taken away from their communities by elders, and trained in practical, religious and spiritual practices for between three and six months in a process called Mukanda.
Sisters Diana and Antoinette Powell-Cotton, from Kent, made a two-year trip to Angola and Namibia, recovering 3,000 pieces, 130 of which were donated to the university.
After more than 70 years in storage, the suit and a number of other artefacts will now be on display as part of an exhibition on growing up around the world.
Rachel Rydquist, a museum studies student at the university, said: "By the time the sisters came back, it was the middle of the Second World War, and they were drafted in to be nurses in London.
"So there's a bit of a lack of information about it, because they were tied up with the war.
"I don't believe that it's been put on display.
"There's so much stuff in the university collection, and it might just not have been a fit for any of the exhibits that were being done."
She added: "It's also really difficult to put something out when there's not a lot of information on it."
Rachel had taken the lead on researching the suit before it was put on display in the exhibition.
The new project, which opened earlier this month in the King's Museum, is to commemorate the Scottish Government's Year of Young People.
The exhibit, called Growing up: Different Journeys, is split into four sections – rites of passage, which the net suit is a part of, education, disruption and stories.
According to Rachel, the exhibit aims to explore not only how different cultures experience growing up, but also the universal nature of becoming an adult.
She said: "We thought it would be fitting in the Year of Young People, and to have artefacts that show the process across the world."
The exhibit will be open in the King's Museum until November 30.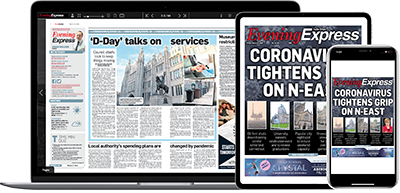 Help support quality local journalism … become a digital subscriber to the Evening Express
For as little as £5.99 a month you can access all of our content, including Premium articles.
Subscribe