A £2 million centre for the Muslim community in Aberdeen has opened its doors.
The mosque on Aberdeen's Nelson Street has been transformed as part of an urban regeneration programme.
Run by the Alhikmah Foundation, the three-storey Masjid Alhikmah facility will have a broad range of services on offer.
The name masjid translates as a place of congregational worship and alhikmah means wisdom.
Chairman of the Alhikmah Foundation Sarfraz Ali thanked everyone for their donations to help complete the centre.
He said: "Masjid Alhikmah is a place of worship for the active Muslim community in the north-east. It's also a welcoming hub for the whole community.
"It's a much-needed place where people can come together, to pray, to learn, to meet, to reflect.
"Throughout the planning and construction phase, the latter starting in 2015, we have truly been taken aback by the support we've seen right across the community.
"And for that, we must say a huge thank you to all our neighbours.
"What is particularly humbling is that although times are hard for many, our loyal supporters — from all backgrounds — have generously donated and raised over £2m through a range of fundraising events, and those efforts are ongoing."
Facilities at the new centre include a prayer hall and a creche. Services will include burial preparation and funerals, baby blessings and marriage ceremonies.
The centre will also act as an education hub for children and adults as the project continues.
Mr Ali added: "We are incredibly proud of this masjid and excited about the role it will play in Aberdeen for years to come. Importantly, it's just the beginning of our urban regeneration aspirations.
"In September last year, Aberdeen City Council chose to support our Urban Fields proposal, which will transform the nearby derelict Nelson Street playing fields and pavilion into a modern, vibrant and multi-purpose space in the heart of the city that can be enjoyed by everyone."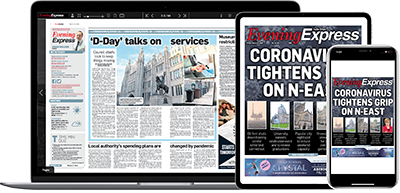 Help support quality local journalism … become a digital subscriber to the Evening Express
For as little as £5.99 a month you can access all of our content, including Premium articles.
Subscribe