An army museum is highlighting the role played by a North-east soldier who was part of a handpicked team carrying out a daring secret mission during World War 1.
The National Army Museum in London has published the story of Captain William Leith-Ross 100 years on from his unit being sent to the Middle East.
Born on November 14, 1884, at Meerut in India, he was the son of John Leith-Ross, laird of Arnage Castle near Ellon, and Frances Forbes Lamond.
After completing his education, he was commissioned as a second lieutenant on the Indian Army's Unattached List in January 1904.
Eloise Maxwell, PR and communications manager at the National Army Museum, said: "Every month we publish a story of a soldier from the First World War which has a regional link.
"Leith-Ross was chosen as we feel his collection of photographs and the archive related to him are a lesser known element of the Great War but no less interesting than the stories from the Western Front.
"Throughout the last four years we have wanted to highlight many of the forgotten stories and elements of the First World War."
In January 1918, the British put together a prototype special operations unit, called Dunsterforce, which was sent on a secret mission to north Persia, now known as Iran, and the Caucasus to safeguard Baku's oil from the Turks.
The unit was tasked with organising local groups in these areas into an effective anti-Turkish and anti-Bolshevik force while simultaneously securing Baku's oil refineries for the Allies.
Despite often hostile treatment in lands racked by famine, war, genocide, and civil unrest, Dunster-force also provided relief to affected areas and trained local militias to defend their villages.
The job was not one for the weak, and unit leader Major-General Lionel Dunsterville is quoted as saying: "All were chosen for special ability, and all were men who had already distinguished themselves in the field.
"It is certain that a finer body of men have never been brought together."
Leith-Ross was recruited for his intelligence experience, after years of producing reports for the British High Command in Mesopotamia.
Together Leith-Ross and the unit successfully navigated cars, vans and armoured cars across difficult Persian terrain.
However, they were forced to return to Hamadan in Persia in late February 1918 when their route was clocked by hundreds of armed Bolsheviks and other revolutionaries. Here they engaged in famine relief work and civil construction projects for the next few months. Leith-Ross also recorded the difficulties which occurred when providing aid to Assyrians resisting the Turks.
After reinforcements arrived, Dunsterforce eventually made it to Baku in July the same year.
Despite their efforts, Leith-Ross and Dunsterforce struggled to bolster the 7,000 Armenian, Assyrian and Russian volunteers defending the city.
Dunsterforce ultimately failed to secure the port of Baku and its oil refineries and was unable to establish any base for recruiting forces. The unit was evacuated back to north Persia in September 1918.
The resources available to Dunsterville, both in terms of numbers and equipment, were insufficient to accomplish the mission's main goals of holding oil-rich Baku against the Turks.
And the British also struggled to mobilise the residents of Baku who were said to be too preoccupied with infighting to mount a united defence.
Despite the unit not achieving all its objectives, the operations undertaken by Dunsterforce exhibited the kind of courage and endurance that is often associated with Special Forces missions.
The conditions in which they travelled and fought were extreme with temperatures topping 50C and plummeting to -40C.
The War Office disbanded the unit on September 22, 1918, with the majority of the surviving men returning to their original units.
Prime Minister David Lloyd George believed Dunsterforce kept the Ottomans and Germans from acquiring much-needed oil for six crucial weeks in August and September 1918, a period in which the war was decided.
After his service in Dunsterforce, Captain Leith-Ross – a keen tennis player – reached the 1918 final of the Mesopotamian open tennis championships where he lost to Norman Brookes, the 1907 and 1914 Wimbledon champion.
In 1936 Leith-Ross retired as a lieutenant-colonel after 32 years of service.
He returned to Scotland where he was appointed inspector of prisons and subsequently Director of prisons and borstals.
He retired from the prison service in July 1950 and died on October 5, 1960, in Aberdeen.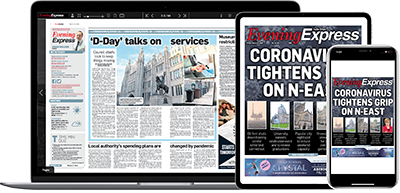 Help support quality local journalism … become a digital subscriber to the Evening Express
For as little as £5.99 a month you can access all of our content, including Premium articles.
Subscribe