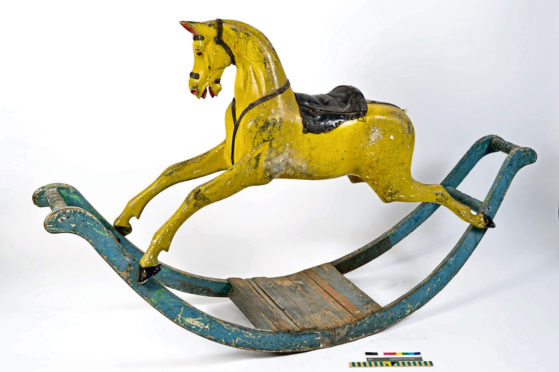 A collection of vintage toys, dating as far back as the late 1800s, will go on display at a north-east venue.
Peterhead's Arbuthnot Museum is hosting an exhibition on a variety of historical playthings from the Victorian era to the mid-20th Century.
One of the oldest items is a wooden pecking hen set carved by hand in rural Russia.
A 19th-Century wooden Noah's Ark, as well as a rocking horse from 1850, also feature in the exhibition.
The rocking horse first appeared in Britain in the early 17th-Century. The one featured in the exhibition dates from the reign of Queen Victoria. She favoured rocking horses which made the toy popular in middle and upper-class homes.
Wood was the most common material for making toys up until 1850 – but following the Industrial Revolution, tinplate became the preferred material.
By the mid 20th-Century, plastic was in common use.
Fiona Clark, Aberdeenshire Council's Museums development co-ordinator, said: "This exhibition brings together toys of bygone days from the collections of Aberdeenshire Council Museums Service, many of which have been donated by local people.
"Children have always valued their toys as playthings and companions to be loved, abused and discarded according to mood and whim. But it is adults who have elevated toys to the display cabinet."
During the exhibit, visitors will get the chance to see a Mobo Bronco horse, a type of ride-on toy popular between 1947 to 1950.
David Sebel and Company manufactured Mobo Toys in Kent from 1947 until 1972.
This Mobo Bronco, held by Aberdeenshire Council Museum, has fixed steering and can move only in a straight line, which indicates it was made between 1947 and 1950.
Visitors will also be able to catch a glimpse of one of the retro toys in its collection – a metal hovercraft manufactured by toy company Corgi between 1960-1962.
It is made out of a metal diecast and is modelled after the first practical hovercraft – the Saunders-Roe SR-N1.
The free exhibition will run from March 22 until June 15.