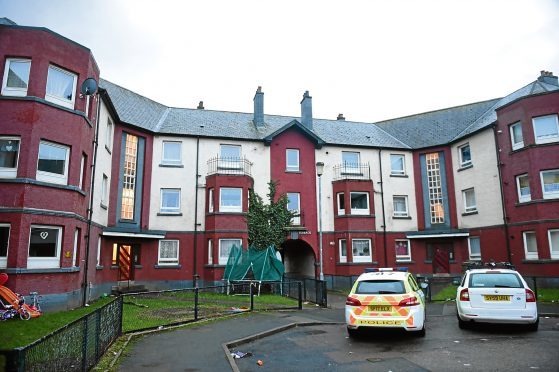 A woman was being held by police today after a murder probe was launched into the death of a man in Aberdeen.
The inquiry follows the discovery of a man's body in the Tillydrone area.
The man has been named locally as Alan Cowie and was believed to be aged 65.
Emergency services attended a block of flats on Alexander Terrace at around 10am yesterday where the body was found.
Officers investigating the circumstances surrounding the death carried out "extensive inquiries" through the day.
And a leading detective described the incident as "contained" and "isolated".
Police said the circumstances surrounding the death were being treated as suspicious, with a woman being held by police to "assist officers with inquiries".
Detective Inspector Gary Winter, who is leading the investigation, said: "I can reassure the public that this was a contained, isolated incident and that at no point was there any threat to the wider public.
"Officers will remain at the scene throughout today to carry out further inquiries and I would like to thank people living in the vicinity for their patience while this is done.
"Our investigation is still at an early stage and I would urge anyone with information to contact Police on 101 or Crimestoppers on 0800 555111 if you would prefer to remain anonymous."
Today, one police car could be seen at the block of flats on Alexander Terrace, while two officers were stationed inside the building
Residents in the street spoke of their shock at hearing of the murder probe.
John McPherson, 32, a labourer, said: "I'm really surprised. I did see the police last night around 11pm when I was walking my dog.
"We're a close community so I'm surprised not to have heard people talking about it in the street."
While a woman who didn't want to be named said: "That's crazy, I had no idea. This is the first I've heard of it but we're quite a private community."
Tillydrone councillor Jim Noble said: "Any sudden death is tragic.
"Tilly has become a much better area over the last 10 years I've been representing it.
"It's come as a big shock to people in the area."