Nursing mums have welcomed a new scheme which will help them breastfeed in public with confidence.
New figures have revealed a number of Aberdeen mums stop nursing within the first few weeks – partly due to the challenges of breastfeeding in public.
But now, an NHS project, which is being supported by the Aberdeen City Health and Social Care Partnership, has signed up 60 city centre shops and cafes which want to show their support for breastfeeding mothers.
Premises taking part will now display a Breastfeeding Welcome logo in their window.
Laura Wood, 21, admits before she became pregnant with her 11-week-old daughter, Thea, the idea of breastfeeding in public made her uneasy. She said: "It used to make me feel a little bit uncomfortable before, if I'm being totally honest.
"Not in a way where I wanted them to stop nursing, more like I'd be aware of someone breastfeeding but not really know where to look.
"But as soon as I had Thea I had this immediate understanding of it.
"All mums have been in the situation where you have to run into the nearest shop or cafe because your baby is screaming and needs a feed, so I think this scheme is great.
"The more places that sign up, the better."
Kerri Milne, 32, says she sees less mothers breastfeeding today then when she had her first child, three-year-old Ella-Marie.
Kerri, who is also mum to 11-month-old Lachlan, said: "I fed my first child until she was about a year.
"But there seems to be less people breastfeeding now.
"Saying that, I personally have never had any bad experienced nursing in public. But I know not everyone feels the same about it.
"I don't understand why we are not as open to breastfeeding as other places in the world.
"But we need to be more open with our children so future generations are more open to nursing in public too."
Linda Smith, Public Heath lead on the 'Breastfeeding Welcome' project, said: "We need to reduce the barriers mothers face when nursing.
"We are trying to make this normal and acceptable."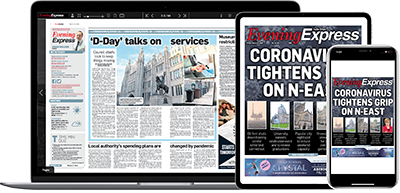 Help support quality local journalism … become a digital subscriber to the Evening Express
For as little as £5.99 a month you can access all of our content, including Premium articles.
Subscribe