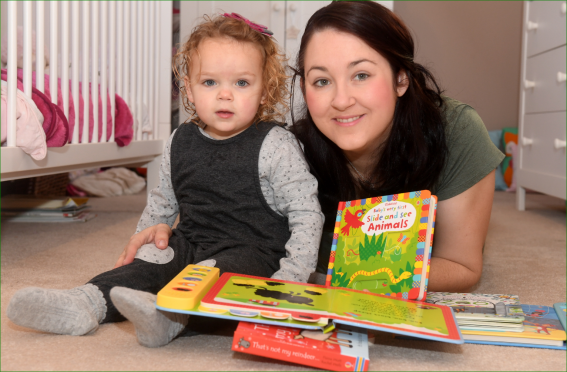 A big-hearted mum is raising funds to help buy every child in a North-east hospital a book this Christmas.
Tegan Kemp, from Portlethen, who runs the Usborne Books online store Mrs K's Little Bookshop, dreamed up the generous giveaway for Royal Aberdeen Children's Hospital (RACH) patients after her daughter Esme, 2, spent some time there.
Tegan said: "Esme was born early and so was a very small baby. At around the seven-week mark she started having breathing difficulties including one choking episode.
"She was taken in for observations and the staff were just incredible, they couldn't do enough for you.
"Despite it being a very scary experience, we received five-star treatment from the staff.
"When Esme was 11 months, she came down with viral meningitis and was taken to hospital by ambulance. She was kept in for the day but luckily her observations were fine.
"Then just last year she contracted the winter flu, a sort of vomiting virus.
"She's doing much better now, but I was just so impressed with the healthcare in Aberdeen. Everyone is so reassuring, everything is under control.
"The staff are so empathetic and they really make sure everyone is doing okay. Everyone I've spoken to has said their experiences have been positive too."
After her experience at RACH, Tegan says she wanted to bring some smiles to the faces of the children.
She said: "I wanted to give something back, to help ordinary people in not great situations because I just couldn't imagine how difficult it would be to have a child in over Christmas.
"I wanted to use my business to give back because a book doesn't necessarily involve any physical activity. Children can be read to if they are unable to do it themselves and they are something that can be kept and taken home."
She hopes to raise £600, which is the 80 beds in RACH multiplied by a spend of £7 per child. Usborne books will also be giving an additional 60% free spend on the order, so the hospital receives an extra £360 worth of free books.
To donate to the project visit: www.justgiving.com/crowdfunding/mrsksbooks