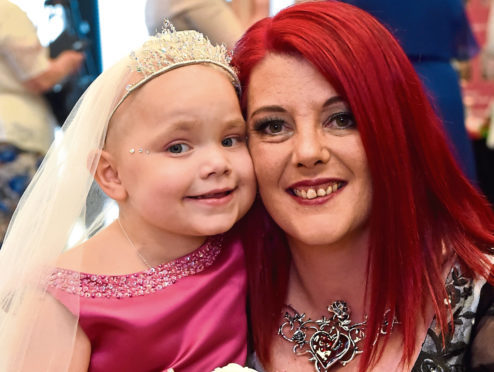 A mum is preparing to launch a charity in her daughter's name, a year after her tragic death from cancer aged just five.
Eileidh Rose Paterson, who was treated at Royal Aberdeen Children's Hospital (RACH), was given a terminal diagnosis in her battle with neuroblastoma last year.
The youngster's condition worsened and Eileidh passed away on July 1 last year.
Her mum Gail, from Forres, said: "The past year has been very difficult.
"The family has all just been trying to re-adapt to life without her.
"Eileidh was larger than life.
"She always knew what she wanted and she often got what she wanted – she was very clever.
"Eileidh was also the most positive girl, she never let anything get to her.
"It didn't matter how bad things got – she was always looking at the positive side.
"She never liked seeing anyone sad.
"It was her that got us through.
"She had no choice but to get on with it, so that's what we did as well.
"She was the one that had to tolerate the pain.
"People often say they don't know how we got through, but the honest answer is that we didn't have a choice."
Now the family has launched a charity in Eileidh's name called The Eileidh Rose Puddles Project.
Gail, 42, who is also mum to Cerys, 14, and Callum, 21, said: "Having the charity has really kept me going and given me a focus.
"If we can make any difference to what families are going through then it is all worth it."
The Eileidh Rose Puddles Project aims to support families with children under 16 that are living with life-threatening and terminal illnesses and help them through bereavement.
The charity offers financial support, opportunities to tick off bucket list items, support groups and hospital entertainment.
Gail said: "The best support we received was from other families going through the same thing – we call them our hospital family. Other parents that are going through know how you feel and they really are the best support you can get and that's why I want to help other families dealing with this.
"It's important to us that everyone involved in the charity has some experience of this to ensure everybody understands their experiences.
"To go through something like this is a parent's worst nightmare and we want to help in any way we can.
"One of those is helping tick off their bucket list.
"Eileidh had a huge list of things she wanted to do and we ticked off a lot of them, like getting to swim with mermaids and she had her special wedding day."
The charity is also looking at creating a "home from home" for families whose children have recently passed away.
Gail said: "This is something we really wanted to do for bereaved families.
"For some families it's not an option to take their child home after they've passed away – it could be they live too far away or they have other children that it could be upsetting for.
"Families also don't want to have to take their child straight to the funeral home.
"I wasn't able to take Eileidh home and I didn't want her going straight to the funeral home so she ended up staying at my dad's. What we want to do is create a third option for families and give them somewhere they can stay with their child."
The charity is planning its official launch tomorrow with a family fun day at the Village Hotel, Kingswells.
Gail said: "We decided we wanted it to coincide with the first anniversary of her passing away.
"It's going to be a brilliant day and filled with all of Eileidh's favourite things.
"There will be glitter tattoos, swimming with mermaids, a bouncy castle and loads more. All of it all comes from her. She will be a major part of the day."
It will take place from 11am to 4pm.
To learn more and to donate visit justgiving.com/eileidhrose-puddles project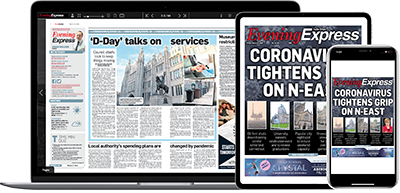 Help support quality local journalism … become a digital subscriber to the Evening Express
For as little as £5.99 a month you can access all of our content, including Premium articles.
Subscribe