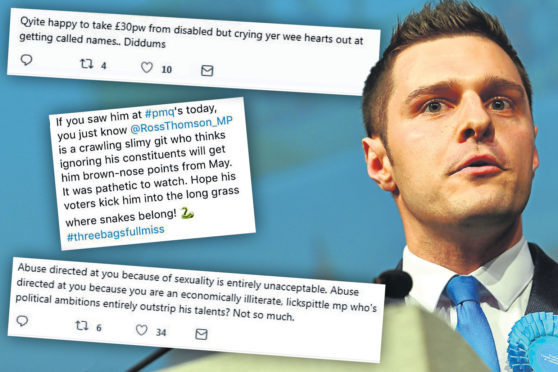 An Aberdeen MP has spoken out about the "barrage of abuse" he receives online.
Ross Thomson MP, who represents Aberdeen South, said the abuse on Twitter can be "personal, vicious and threatening" as well as homophobic.
The Conservative MP, who has previously worked as a councillor and MSP, said the level of abuse has intensified since being elected to Westminster last June.
He said: "I have done council, MSP and then MP and you'd think that having been in those positions I'd have been used to abuse.
"But the level of it really changed as of the snap General Election and it became an awful lot more intense and a lot more persistent.
"It's got to a point now where I don't see all the notifications as there's so many and my account gets monitored now.
"When you're talking about policy like on Europe or independence you would expect other sides to lay on you, and being an elected official it comes with the territory, but what has been eye-opening is how personal, vicious and threatening it gets."
Mr Thomson said he was surprised to even receive "a barrage" of online abuse on Christmas Day.
He added: "People feel emboldened and act in a way you would never do if you were face-to-face with them. It's become a space where people don't call it out, why do we allow it to happen?
"It's fair enough to have rigorous debate but it's not fair to get personal and nasty."
The Conservative politician has had to refer some threats made online to the Parliamentary Authority and said the police have looked at some of them.
Mr Thomson believes more should be done to tackle the issue of online abuse, including cracking down on fake accounts.
He added he believes the issue is putting future candidates off standing for election across all levels of government.
He said: "When looking for people to stand as councillors there were people saying they couldn't put up with that level of abuse.
"It's now becoming a consideration and there are people who are elected and have been for some time who don't want to engage with Twitter. I still think it's a good way for sharing what I'm doing and finding out what people think."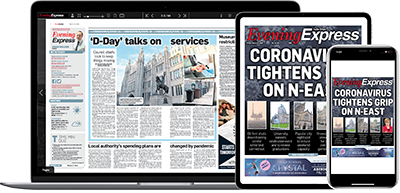 Help support quality local journalism … become a digital subscriber to the Evening Express
For as little as £5.99 a month you can access all of our content, including Premium articles.
Subscribe