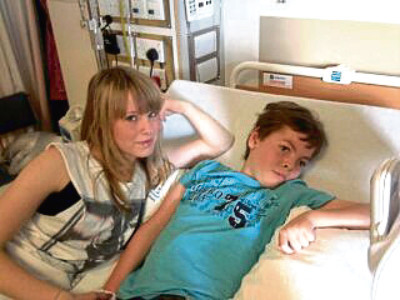 An Aberdeen mum has praised a charity for "lifeline" help it gives her in caring for her profoundly disabled son.
Jacqueline Barbour's son Jack, 19, has a rare genetic brain disorder called Lissencephaly, meaning his brain is completely smooth.
As a result Jack cannot move by himself and is wheelchair-bound.
His mum Jacqueline has encouraged other families in the same situation to use the respite care that has helped her family.
Jack was just 22 weeks old when his condition came to light.
Jacqueline, of Dyce, who is married to David, said: "Jack appeared to be fine when he was born.
But before we got to that point, Jack had a massive seizure and stopped breathing.
"We noticed that things didn't appear right a bit afterwards. For example, we had real trouble with feeding him.
"I also noticed that he had no startle reflex either but the health visitor wasn't too concerned.
"But when he was 11 weeks old we made the decision to make an appointment at the hospital.
"But before we got to that point, Jack had a massive seizure and stopped breathing.
"The reality all started unfolding from there and by December we had a diagnosis.
"I think I coped quite well when I found out.
"Because it was so gradual, we had time to come to terms with it.
"If we had received all the information at once I think it would have been much harder to cope.
"Jack was 22 weeks old by the time he got his diagnosis and by that point we knew it was far more than epilepsy."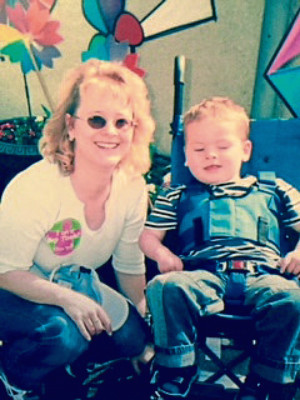 For 10 years, Jacqueline, 49, and David, 55 – who are also parents to Amy, 22, and Shannon, 14 – have turned to north-east charity Archway for help in caring for Jack.
The charity provides 43 nights of respite care to families with disabled children.
And recently staff from the Marks & Spencer's Stoneywood Foodhall hosted an Alice in Wonderland tea party to kick-start a week-long volunteer drive.
Staff at the store also raised £3,000 to help build a specially adapted roundabout for wheelchair-bound children.
Jacqueline said: "Archway is a lifeline for our family. Jack requires 24-hour care so it's a huge relief to know there are specially trained staff, who we know and trust, on hand to help whenever we need.
"Jack is really quite medically complex. When he goes to Archway, he goes with half the house – there's a huge amount of stuff.
"It's a very anxiety-provoking situation to be putting him in someone else's care.
"Life is very routine and unspontaneous for us."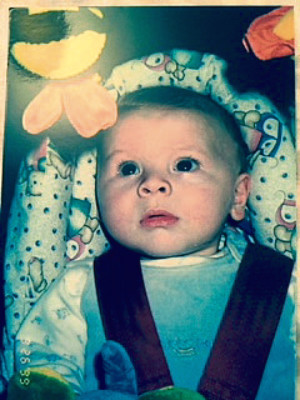 Jacqueline, a physiotherapist, has said the help from the charity has lifted a huge burden from the family.
She said: "Being able to have that respite is amazing.
"If you've had a hard time lately trying to keep on top of things and avoid hospital admissions it's so comforting to know that in three weeks Jack will have a few days at Archway and we'll have a break.
"It takes a long time to build up that trust with the staff. There is a lot of anxiety as a parent.
"As time went by we became more confident and so did the staff, it's been a learning curve for them as well. Taking care of Jack is a huge effort now.
"People underestimate the importance of respite.
"You'll never believe anyone is capable of taking care of your child as well as you. But there are plenty of people who can do an excellent job. I'd encourage any families considering using respite to do it."
She added: "We need a break from the physical challenges of taking care of Jack.
"One of the things people often ask me is 'what are the restrictions?' and they're mainly physical.
"If I'm making dinner and realise I don't have something then I can't just nip down to a shop and pick it up."
"We do the best we can but it will never be fine."