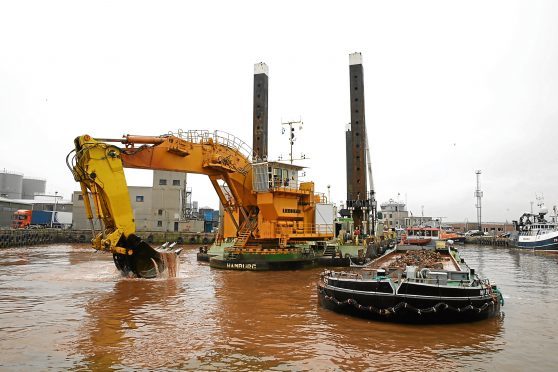 A £50 million project to develop a North-east harbour has taken a step forward with the arrival of a huge dredger.
Dutch firm Boskalis sailed into Peterhead armed with its MP 40 dredger vessel to begin deepening the north harbour.
Weighing 1,257 tonnes, it is one of the biggest dredgers in the world.
When complete, it is hoped the deepened harbour will encourage new ventures and allow larger boats to berth.
A spokeswoman for Boskalis said the walls of Peterhead Harbour had to be strengthened before the MP 40 could begin work.
"The project includes a new dedicated whitefish landing hub and extensive deepening of the North Harbour, scheduled for completion in the spring of 2018," she added.
"By increasing market capacity and doubling the depth of water
currently available in the north harbour, the development will fully address the dual need for fishing vessel deep-water berthing in the extensive north harbour."
Peterhead Port Authority chief executive Ian Laidlaw described the arrival of the "super-monster" vessel as a "milestone".