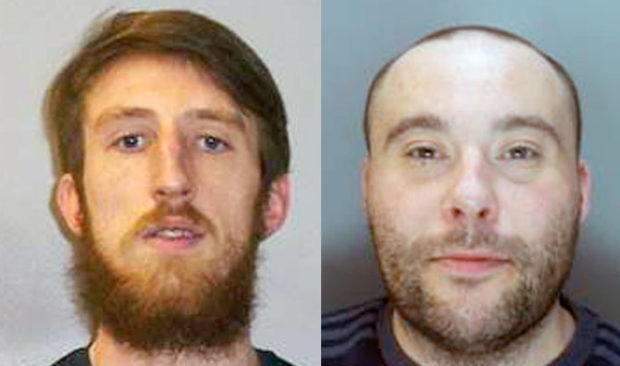 An Aberdeen cash machine raider caught after his lover flagged down cops for directions was today jailed for 52 months.
Officers arrested everyone in the Vauxhall over a smell of cannabis including Ellis Boyd, 26, whose DNA matched the robbery.
He was nabbed as part of a masked gang of five involved in the attempted £6,770 raid at a Spar store in Clifton Road, Aberdeen, on March 6.
Co-accused Ian Jones, 33, who acted as lookout, was jailed for 56 months.
Today at the High Court in Glasgow judge Lady Scott told the pair: "You fed a gas pipe through the ATM and caused an explosion. This has become more prevalent in Aberdeen, especially involving criminals coming from Liverpool.
"This was a well planned enterprise. I accept that there was no intention to cause injury to anyone. You both have well-established criminal life styles."
The court heard that both men pose a high risk of re-offending. Jones has 47 previous convictions.
The pair who travelled up from Liverpool in a stolen Audi Q5 fed tubing attached to a gas cylinder into the machine before igniting it.
But they failed to force the ATM door open.
The gang rammed the glass door of the shop with a lottery sign before they kicked their way inside.
When police arrived they found the front of the shop and ATM were significantly damaged by the explosion.
The car was abandoned with false plates just over a quarter of a mile from the store.
CCTV footage showed the pair leaving Aberdeen by train to head down south.
Weeks later Boyd was back in Aberdeen in a Vauxhall Astra when his driver girlfriend signalled to police on foot patrol because she was lost and everyone in the car was detained.
DNA found on copper piping at the end of a hose that was fed into the ATM linked Boyd to the raid.
Jones' DNA was found on the abandoned Audi Q5.
Both accused pled guilty to unlawfully and maliciously causing an explosion likely to endanger life or cause serious damage.
They also admitted trying to force open the machine with intent to steal it.
Defence counsel Iain Smith, representing Jones, said: "He has expressed remorse for this. He came to Scotland with his co-accused and thought they were going to steal a car."
Defence counsel Craig Findlater, representing Boyd, told the court: "This was an incident which was unsuccessful. No money was taken."
The court was told the damage to the ATM amounted to £455.
Both accused showed no emotion as they were led away to begin their snetences.