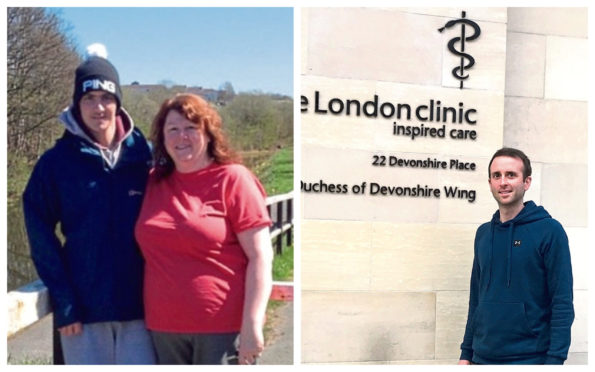 The legacy of a north-east man who battled leukaemia is set to live on – as his friend prepares to potentially save a life.
Paul Flecher-Herd, 27, was inspired by his family friend Cammy Smith's brave fight and signed up to donate stem cells.
Cammy, an offshore worker, passed away in January 2014 at the age of 26 after battling the disease twice.
He became an inspiration for many during his fight, including Paul, who attended Hazlehead Academy with Cammy.
After Cammy passed away, Kingswells native Paul cycled from London to Paris for Friends of Anchor and signed up to become a donor through the Anthony Nolan Trust.
More than five years on, and now working for property firm Aberdein Considine in Edinburgh, he received a call from the charity telling him he could be a match.
After an initial test he travelled to London for a full medical examination last week.
Paul will return to the capital at the end of this month for the four-hour procedure, where he will donate five million of his cells.
He said: "I got an email saying I was a potential match – and that all came from a swab test they sent out in the post when I signed up.
"It was a bit of a surprise after waiting for so long.
"After they told me about the potential match a nurse came and took five test tubes of blood to make sure I was a match.
"I went down to the clinic in London.
"That involved more bloods being taken, an ECG and X-ray, and a full medical history questionnaire.
"It wasn't tough at all and that's something I want more people to be aware of. It's just like giving blood – it's not painful in the slightest.
"They also explained all about the procedure itself and took me through to the room where it will be happening.
"That made me feel a lot better about it.
"It will be a four-hour procedure at the end of the month. You get a needle in both arms and they will be taking five million of my stem cells.
"That seems like a lot but I have been told it's quite a small amount compared to the number of cells in your body.
"Doing this is a great feeling and it's cost me absolutely nothing.
"The gift of giving life back to someone and giving hope back to their family is something you can't put a price on."
---
---
Cammy's courageous battle inspired thousands across the north-east and beyond, and thousands were raised to fund research into the condition in his memory.
Paul's donation was welcomed by Cammy's mum Katy Day, 53, who said he was keeping her son's legacy alive.
Katy still lives in Aberdeen in the same Airyhall home Cammy grew up in.
She said: "It means everything to us that Paul is doing this.
"Cammy campaigned to get as many people to sign up as possible and he would be so happy about this. And proud.
"We are delighted with any money raised for the fight against cancer in Cammy's name and any name.
"If any lives can be saved his fight was not in vain.
"He was very selfless and wanted to help others.
"It is lovely that he is remembered for his campaigning.
"Anyone who is able to sign up should do it, it takes seconds and can save lives.
"Cammy had nine months after his transplant that he wouldn't have had without his donor.
"As I said to Paul, don't feel bad if it doesn't work, it's a chance someone wouldn't have without him donating.
"It could mean the difference between life and death or at least a few months longer with family.
"We will never forget Cammy and it's lovely that others aren't either."
Amy Bartlett, regional register development manager for Scotland at Anthony Nolan, said: "We are delighted that Paul has helped to keep Cammy's legacy alive, by firstly signing up to the stem cell register and now donating to someone in desperate need of a transplant.
"Every single person who joins the Anthony Nolan Register has the potential to help give someone with blood cancer or a blood disorder a second chance of life.
"We're particularly calling on young men aged 16-30 to consider joining the Anthony Nolan register, as they are more likely to be chosen to donate."
---
Joining the Register
By signing up to the Anthony Nolan register, you could cure someone's cancer.
Anyone aged between 16 and 30 who is in good health and weighs over 7st 12lbs (50kg) is eligible to sign up.
The trust particularly needs young men to volunteer – they produce more stem cells than women and are six times more likely to donate, but only make up 15% of the register.
Those wishing to join can fill out an application form online before answering a few questions about their medical history and providing contact details.
A swab will be posted out and the sample will then be tested and the volunteer will be added to the register. People remain on the register until they turn 60.
Every time someone needs a transplant the register will be checked for a match.
Visit anthonynolan.org for more information or to register.