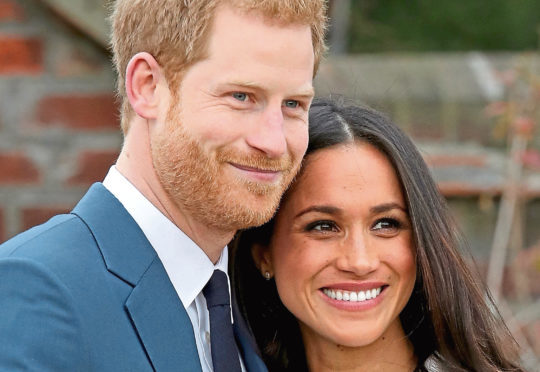 The Duke and Duchess of Sussex are "very pleased" that Meghan is expecting a baby in the spring of 2019, Kensington Palace said.
Their Royal Highnesses The Duke and Duchess of Sussex are very pleased to announce that The Duchess of Sussex is expecting a baby in the Spring of 2019. pic.twitter.com/Ut9C0RagLk

— Kensington Palace (@KensingtonRoyal) October 15, 2018
Harry and Meghan's dreams of starting a family come true
The Duchess of Sussex once described motherhood as being on her "bucket list", while the Duke of Sussex has often confessed he would love to have children.
The former actress's pregnancy fulfils the pair's long-held ambition to become parents.
In the run-up to their wedding, Meghan hinted at starting her own brood with Harry.
On a trip to Belfast less than two months before the big day, the bride-to-be joked when she was shown an innovative range for newborns: "I'm sure at some point we'll need the whole (lot)."
In an interview in 2016, Meghan said becoming a mother was on her "bucket list".
"I can't wait to start a family, but in due time," she said.
The topic cropped up in the couple's engagement interview, with Harry speaking of their plans.
"You know, I think one step at a time, and hopefully we'll start a family in the near future," he said.
Harry has long since admitted he would love to have children.
Back in 2015 before he met and fell in love with Meghan, he revealed that seeing his brother's family continue to grow made him wish he had some of his own.
"Of course I would love to have kids right now but there's a process that one has to go through and tours like this are great fun," Harry said.
"Hopefully I'm doing all right by myself. It would be great to have someone else next to me to share the pressure, but you know, time will come and whatever happens, happens."
He is already godfather to five or six of his friends' children.
"I think the key to that is to be able to grow up, but also be able to stay in touch with your childhood side," Harry added of being good at the role.
Like Harry, who is known for being at ease with youngsters, Meghan has impressed onlookers with her affectionate nature when meeting children on royal walkabouts.
In Birmingham on International Women's Day in 2018, she hugged 10-year-old Sophie Richards, telling her she could achieve whatever she wanted to achieve, after learning the schoolgirl wanted to become an actress.
Meghan also spent time getting to know William and Kate's eldest children Prince George and Princess Charlotte in the run-up to her engagement, and was living nearby at Kensington Palace when the family celebrated the arrival of Prince Louis.
The celebrity, who shot to fame playing paralegal Rachel Zane in the American drama Suits, already has two "fairy god-daughters".
She described the children of her close friend Benita Litt as such in a 2016 post on her since deleted Instagram account, and the girls – Remi and Rylan – were among her bridesmaids at her wedding.
During their wedding ceremony, Harry looked tenderly at his bride and smiled when the Dean of Windsor spoke of marriage being the "foundation of family life in which children are born and nurtured".
The duchess's father Thomas Markle said he expected Meghan and Harry would want to try for children soon.
He told ITV's Good Morning Britain in an interview a month after the wedding: "She's wanted children for a long time and when she met Harry and she spoke about how much she loves him, there's got to be a child in the making, somewhere soon."
---
Here's a look at the royal baby in numbers:
2 – Baby Sussex will have two homes – Nottingham Cottage in Kensington Palace and a country hideaway in the Cotswolds.
2 – The Sussexes already have two family pets – Meghan's beagle Guy, and a new black labrador called Oz.
3 – Baby's royal first cousins – Prince George, Princess Charlotte and Prince Louis.
4 – The infant will be the Prince of Wales's fourth grandchild.
6 – Harry's place in line to the throne.
7 – The baby will be born seventh in line to the throne.
7 – Meghan starred in seven seasons of the US legal drama Suits as paralegal-turned-lawyer Rachel Zane before marrying Harry.
8 – The Queen's great-grandchildren after the baby is born. Newest additions include Prince Louis and Lena Tindall.
8 – The Duke of York's position in line to the throne after the baby's arrival. Andrew was born second in line in 1960.
34 – Harry's age.
37 – Meghan's age.
41 – Royal births are celebrated with a 41-gun salute.
£7,500 – Cost of a one night stay and delivery package at the private Lindo Wing, where Prince George and his siblings were born, including a suite of two rooms, but excluding consultants' fees.
£47.4 million – The amount the Queen received from the taxpayer via the Sovereign Grant in 2017-2018 – 69p for each person in the country.
---
Here is the low-down on the Duke and Duchess of Sussex's first child:
Where will the baby fall in the line of succession?
Seventh in line. The baby will bump Harry's uncle the Duke of York into eighth place in the line of succession.
Princesses Beatrice and Eugenie move into ninth and 10th place, and the Earl of Wessex – the Queen's youngest son – drops out of the top 10 for the first time to 11th in line.
How will the baby be related to the Queen?
The baby will be a great-grandchild of the Queen and the Duke of Edinburgh, and the Prince of Wales's grandchild and the Duke and Duchess of Cambridge's niece or nephew.
Will he or she ever be monarch?
Unlikely. The baby will have three cousins Prince George – a future king – and Princess Charlotte and Prince Louis, who are further up the line of succession, so it is a safe bet that throne will stay on the Cambridge side of the family.
What will the baby be called?
William and Kate chose royal favourites for their children.
But will Harry and American-born Meghan go classic or break the royal mould when naming their baby?
If they stay traditional, something like Alice, Mary, Elizabeth or Victoria for a girl, and James, Philip, Frederick or Arthur for a boy are possibilities.
In the US, the most popular name for a baby girl is Emma and Liam for a baby boy.
Will the baby be a prince or princess?
No they will not be a prince nor a princess, nor an HRH because George V limited titles within the Royal Family in 1917.
So what will their title be?
A son would be known as Earl of Dumbarton – because a first son of a duke is allowed to use one of his father's other lesser titles as a courtesy title.
Harry was also made the Earl of Dumbarton on the morning of his wedding, as well as being given a dukedom.
A daughter would be Lady (first name) Mountbatten-Windsor.
But the Queen could change this?
Yes. The Queen stepped in ahead of George's birth to issue a Letters Patent to ensure the Cambridges' children had fitting titles, but this royal baby is much further down the line of succession.
Will Harry and Meghan hire a nanny?
Most likely. Harry has been close to all his nannies and it is likely he and Meghan will arrange for a nanny to care for their baby while they are on official engagements.
Kate and William have the help of their full-time live-in nanny Maria Teresa Turrion Borrallo.
Meghan's close friend Jessica Mulroney had two nannies to help her with her twin boys and younger daughter.
When and where will the baby be born?
Kate had three successful deliveries at the private Lindo Wing in St Mary's Hospital, Paddington, so Meghan might follow her sister-in-law's lead.
Harry was also born there in 1984. It is close to Kensington Palace and well practiced at dealing with royal births, and the publicity surrounding them.
Will the baby have dual citizenship?
Harry and Meghan could apply for their child to have dual US-UK citizenship.
Meghan is planning to become a British citizen – but it is not known whether she will hold dual nationality, and at present is still a US citizen.
According to the American Embassy in the UK, a child born outside of the US and in wedlock to a US citizen parent and a non US citizen parent, may acquire US citizenship at birth if the US parent lived in America for five years – two of which were after the age of 14.
---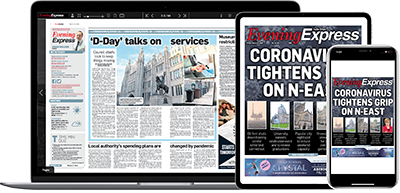 Help support quality local journalism … become a digital subscriber to the Evening Express
For as little as £5.99 a month you can access all of our content, including Premium articles.
Subscribe