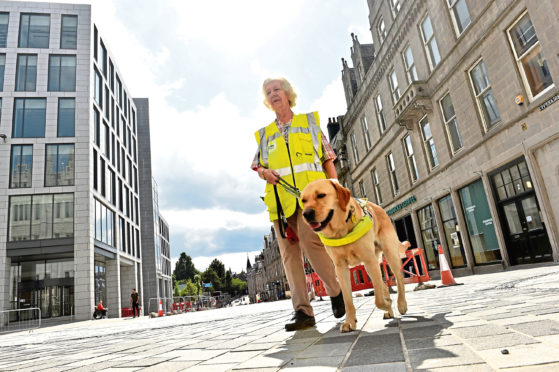 A Scottish Government event which hoped to discuss accessible elections has changed venue due to unsuitable conditions for disabled people.
The event was set to take place on Broad Street to explore how the voting process can be made accessible for those with vision loss or mobility issues.
However, it was decided to change the venue in order to avoid Broad Street, which has drawn criticism from the blind community due to its lack of kerb sides.
The event is now expected to take place at Huntly Street.
Chairwoman of Guide Dogs Aberdeen Mary Rasmussen had planned to attend the event, but due to the reshuffling, is no longer able to.
Mary, who is blind, has previously spoken to the Evening Express about her concerns over Broad Street.
She said: "Blind people cannot even start to undertake it. I think it's more than just me – I have friends who don't feel they can go to Broad Street.
"I want to highlight how it is disrupting people's lives."
---
---
Having undertaken a "walkabout" with members of the council and the Disability Equity Partnerships (DEP), Mary recognised the difficulties and called for a controlled crossing to be introduced on Upperkirkgate.
A spokesman for the RNIB confirmed that the venue had been changed due to accessibility issues on Broad Street.
An Aberdeen City Council spokeswoman said: "A planned monitoring review of the Broad Street is currently taking place and we are engaging with groups which includes local sensory organisations and the DEP.
"Officers will report back to committee for the review after six months. The design and build of the project followed best practice and government guidelines."