An Aberdeen graduate told how seeing politics in action helped inspire her during her studies.
Roisean Farquhar, originally from St Cyrus, was among those graduating from Aberdeen University, gaining a master of arts in politics and sociology.
The 21-year-old comes from a long line of Aberdeen University graduates, with both her parents and grandparents studying there.
She said: "It's very quiet in St Cyrus, but I went to school at Albyn in Aberdeen. St Cyrus is a lovely coastal town where everyone knows everyone."
The young graduate said her interest in politics was spurred on after she got the chance to interview MSPs in Holyrood in January as part of her studies.
Roisean, who called the experience "empowering", added: "I went down to Holyrood in January where I interviewed MSPs and I loved it.
"It was so fascinating. It was all women MSPs and that is something I am massively interested in.
"I'm a feminist, and so encouraging more women into politics is something I am invested in."
As part of her dissertation, Roisean focused on the success of female MSPs.
She said: "Currently all our literature is on why women are unsuccessful, and reading that made me think, 'No I don't want to list all the reasons why women don't do as well as men'.
"I wanted to list all the reasons why all women do well despite adversity."
Her research found the success of women in politics had "nothing to do with being from a specific social group or if they were a mother or not a mother, but about their determination".
The graduate said: "It's something I really enjoyed and, to be honest, it is something I want to do in the future.
"Interviewing them was fascinating and empowering."
Roisean, who says she loved her time at the university, said:"Without the university's support, I wouldn't have had the opportunity to pursue my interests.
"I think Aberdeen University is amazing for giving me that.
"My dissertation supervisor was so brilliant and helpful. When I hear different uni experiences, I just think 'I love Aberdeen'.
"All teachers are helpful – even if they're not teaching your course.
"I had a teacher who would sit and help me go through my drafts and proof read them with me, from the small things to the big things."
Roisean is the third generation in her family to graduate from the city university.
She comes from a family of Aberdeen University alumni who took a trip back to their old haunts to see her receive her degree.
Roisean's parents, brother and boyfriend were all watching proudly as she graduated.
"My dad graduated in history and politics – so quite similar. And my mum did counselling.
"My granny did law and then changed because she felt she could help more people by doing social work. My grandpa studied sociology partly before moving on to work in the NHS.
"Both my brothers are going to Aberdeen College to eventually go to Aberdeen University."
Now that she has graduated, Roisean wants to further her studies with a masters in marketing management at Aberdeen University in the coming year.
She said: "I want to work within business for a while, particularly in oil and gas.
"It is particularly male dominated and I'd like to make a change there.
"Maybe later I would like to work within politics after getting some business experience as an executive."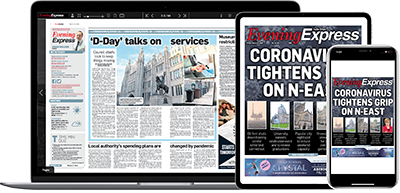 Help support quality local journalism … become a digital subscriber to the Evening Express
For as little as £5.99 a month you can access all of our content, including Premium articles.
Subscribe