A woman who fell ill on a cruise ship and became stranded abroad is now home in Aberdeen – thanks to the Evening Express.
Maureen Kirkton was on a North Sea cruise when she fell ill and had to be dramatically winched on to a rescue helicopter bound for a Norwegian hospital.
The 69-year-old spent a week at the Stavanger health facility while her insurers discussed a plan with the hospital and NHS Grampian – until the Evening Express intervened and the matter was resolved within hours last Friday.
There had been concerns that further illness could prove fatal, so doctors advised against Mrs Kirkton travelling by commercial airliner.
Instead, she was taken by medical taxi last Saturday to Stavanger Airport and boarded a private medical aircraft – staffed by a doctor and nurse.
She was then taken from Aberdeen International Airport to Aberdeen Royal Infirmary before being allowed to return to her Sheddocksley home on Tuesday after undergoing surgery to correct a problem in a device that regulates her heartbeat.
Mrs Kirkton said: "I'm chuffed to be home and that the doctors have done such a good job in Aberdeen.
"It was quite an adventure to have my own private plane to get home – that's another thing ticked off the bucket list."
She added: "I'm grateful to the Evening Express for getting involved and helping to sort it all out. The cruise was great – and then I fell ill. Being winched up into the helicopter was a strange experience.
"The staff at the hospital in Norway were great."
Mrs Kirkton is fitted with a pacemaker, which now regulates her heartbeat. However, she suffered an arrhythmia, which overrode the pacemaker, causing her to fall ill.
Doctors at ARI have fixed the pacemaker so it will correct an irregular heartbeat in the future.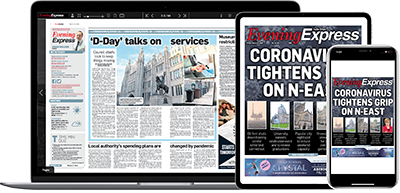 Help support quality local journalism … become a digital subscriber to the Evening Express
For as little as £5.99 a month you can access all of our content, including Premium articles.
Subscribe