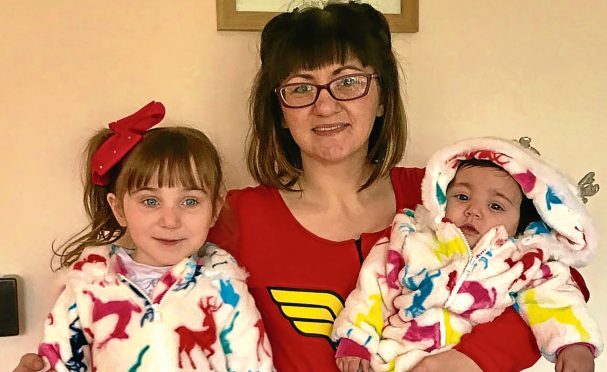 A woman who has lived with diabetes since she was a child is set to run in the London Marathon to raise cash for charity.
Julie Dixon, who was diagnosed with type 1 diabetes at 13, will slip on her running shoes in April as part of a fundraising effort for Diabetes UK.
The mum-of-four got hooked on running when she took part in the Great Aberdeen Run half-marathon in August – only weeks after giving birth to her daughter Emily.
Julie, 35, from Aberdeen, said: "I didn't do much running before but the Great Aberdeen Run took my interest. I thought there was no way I could do it but really wanted to."
Within a month of signing up, Julie found she was pregnant and feared it might end her hopes of taking part.
"I had my daughter on June 27. There was so much hype around the run and I got so jealous I decided to do the 10k," she said.
"Then I just decided to push myself and ran the half-marathon. I'm quite competitive.
"I applied to Diabetes UK for the London Marathon and they phoned me two weeks ago to say they have a space. It's exciting, but for me, the main point is to raise money for the charity."
Julie, who is married to Douglas, and is mum to Max, 8, Oliver, 7; Eliza, 3, and four-month-old Emily, said she has never let diabetes hold her back.
She said: "It's 22 years since I was diagnosed and it's amazing to think how far we've come since then.
"I wouldn't let diabetes stop me doing anything. For my 30th birthday, I even did a skydive for Diabetes UK."
Julie, who works in business development at the University of Aberdeen, has run several other events for the charity, and recently got her daughter's nursery involved in a "T-onesie" event for this month's National Diabetes Month.
She said: "It's very difficult to be diagnosed with type 1 diabetes, especially as a young child.
"Now I've got my kids to think about, I want to be around for as long as possible to see them become adults and get married.
"It's a real motivator for me to keep healthy and to help others with diabetes."
To donate to Julie's marathon, visit http://bit.ly/2hqimJE