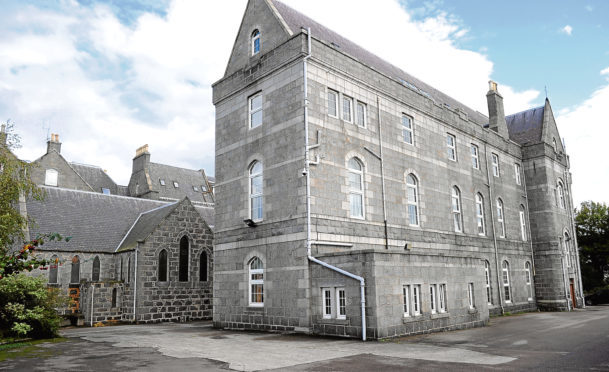 A man stripped and beat a boy "black and blue" in an assault at a former children's home in Aberdeen, an inquiry has heard.
A witness at the Scottish Child Abuse Inquiry said the man "battered hell" out of him at Nazareth House in Aberdeen in the 1960s when he was 11 years old.
He told the inquiry: "I thought my time was up."
The witness said the nuns who ran the home would have been aware of the incident but did not come to see how he was.
The hearing in Edinburgh is now into the third day of examining four children's homes, no longer operating, which were run by Catholic congregation the Sisters of Nazareth in Scotland.
The witness, now in his 60s, who cannot be identified, said he was attacked by the man – a regular visitor to the Aberdeen institution – after he was caught fighting or arguing with another boy.
He said: "He grabbed hold of me.
"He dragged me into a bathroom and battered hell out of me."
The man had taken off the boy's clothes, leaving him naked as he was punched, the inquiry was told.
"I was black and blue all over my body," said the witness, who could not recall how long the episode lasted.
He told senior counsel to the inquiry, Colin MacAulay QC, he has no idea why he was stripped, adding: "It's not exactly a normal thing to do, is it, to a young boy? It's a bit peculiar."
He agreed he was shouting and screaming during the assault, which left him with bruises "all over my face, my back, my front and my legs".
Pressed on whether the nuns would have been aware of the incident, he replied: "Yes definitely, they were aware but not one nun approached me."
He told how he was unable to sleep that night and assumed he would not be going to school the next morning.
However, he said one nun told him: "Don't think you're getting away with not going to school."
The witness told how the bus driver then referred him to the school headmaster and the police were called.
Officers later took him back to the home at Nazareth House, he told the inquiry, at which point a nun "took me into a wee side room and pulled me up for getting the police involved".
He added: "I told her it was the headmaster who called the police, not me."
The witness said police had a word with the man but he did not believe the man was prosecuted.
"The annoying thing is he was back in the home that night, the next night after he assaulted me," he added.
The witness also told how the nuns at the home were "quite abusive" and left him with a phobia of nuns ever since.
The inquiry, before Lady Smith, continues.