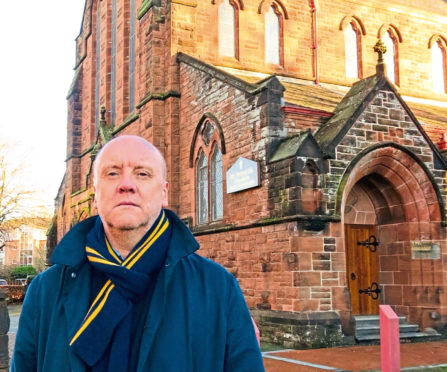 A former altar boy has filed legal action against the Catholic Church over alleged sexual abuse by a former Aberdeen priest.
Jim Lawn, 54, waived his right to anonymity to claim Father John Gowans abused him for three years.
Mr Lawn has raised fears people in Aberdeen may have been targeted, after the priest transferred to a diocese in the city.
From the age of eight, Mr Lawn says he was raped and beaten by Father Gowans at St Patrick's Church in Dumbarton, and was told he would "burn in hell" if he told anyone.
Father Gowans played a leading role in a group called the Boys' Guild, an activity club led by priests, similar to Scouts or Boys' Brigade.
Father Gowans, who is now deceased, was moved from St Patrick's Church to a parish in Aberdeen, sparking fears that more children in the north-east may have been targeted.
Mr Lawn moved from Dumbarton to Saudi Arabia for a year, before returning to Scotland.
At that point, Father Gowans was transferred to a diocese in the Granite City.
---
---
Mr Lawn said: "At the time I just felt relieved that I wouldn't have to see him again. Looking back it seems unusual for a priest to be moved from one diocese to another – especially so far away.
"I just hope no one in Aberdeen suffered because you have to remove an abuser, not relocate them – otherwise it just carries on in a different postcode.
"He was very cold and organised about what he did. I knew what he was doing was wrong but I was simply too scared to tell anyone."
Father Gowans moved to Aberdeen in the late 70s, working in parishes in Torry and Kincorth before being appointed as priest of Holy Family RC in Mastrick. He died in July 1999.
Mr Lawn filed a historic abuse complaint at Clydebank Police Station in 2011, however it is believed they ceased their investigation after learning that Father Gowans was dead.
On November 1, a letter was sent to Archbishop Tartaglia, Archbishop of Glasgow, confirming legal action was being taken.
Mr Lawn added: "If anyone else is out there, whether abused by Gowans or someone else, then I hope you get the strength to talk to someone. The first conversation is the hardest, but once you've had it, you're empowered.
"The truth always comes out and those around you will help you get it."
A Catholic Church spokesman said: "It is difficult to respond adequately to allegations of serious crimes dating back almost 50 years when legal proceedings are active and the alleged abuser is dead.
"The crimes described in these allegations are appalling.
"The church, its bishops, priests and people are truly sorry for what has happened to all those who have suffered any kind of abuse.
"Archbishop Tartaglia has apologised repeatedly on behalf of the church of today for the failures and crimes of the past.
"That apology is sincere and heartfelt and is extended to anyone who suffered at the hands of Father Gowans or any other representative of the church. Lessons have been learned from the past.
"We cannot make up for the pain of survivors, but we are determined to ensure that young people today and tomorrow will be safe and secure in the care of the Church."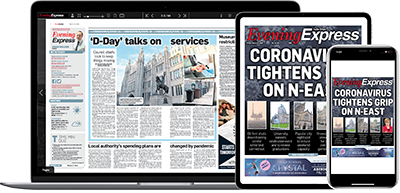 Help support quality local journalism … become a digital subscriber to the Evening Express
For as little as £5.99 a month you can access all of our content, including Premium articles.
Subscribe