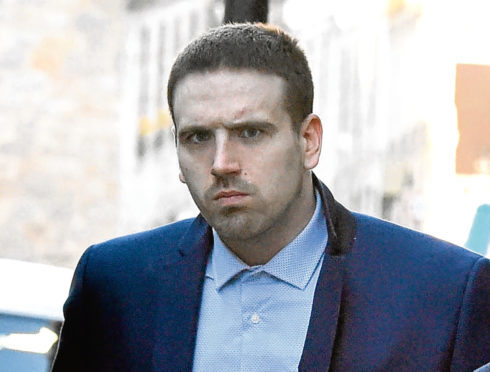 A man was today jailed for 10 years for killing a young dad at his Aberdeen home.
Darren Barnes, known as Riley, 29, appeared at the High Court in Edinburgh for sentencing after being convicted by a jury of the culpable homicide of his friend Robert Reid.
He had been on trial at the High Court in Aberdeen, and denied murdering Mr Reid at his home on Arnage Place, Aberdeen, on October 26, 2016, claiming self-defence.
Riley, whose address is given in court papers as Don Place, Woodside, had been accused of repeatedly striking Mr Reid to the head and body with a knife or similar instrument.
During the trial, the jury was told Mr Reid and Riley were "like a married couple" and "always together".
On the night Mr Reid died, the pair had been drinking.
The jury heard that Mr Reid had 21 different injuries, including nine stab wounds mainly to the left side of his torso.
Riley, who described Mr Reid as his "best friend", gave evidence on his own behalf, and told the court himself and Mr Reid had a fight, saying it started because his friend "wasn't happy with something I said".
Riley told the court Mr Reid had planned to fight another man, but that he had told him to "leave it" because the man would have "put him in bits" because Mr Reid had been drinking and taking drugs.
Asked what happened, Riley said: "He got up and punched me – took my teeth out. It happened really quickly.
"I said 'what do you think you're playing at?
"You're going to be left with no friends'. Then he got me again, then I realised he had a knife.
Riley said Mr Reid then slashed him in the face with the knife.
He added: "I went in to fight or flight. I couldn't move. I had to fight."
Following the trial Mr Reid's partner, Jackie Hanratty, described him as a loving father and partner, who "lived for" his family.
She said their three-year-old son, who is also called Robert, speaks to his dad "up in the sky" every night.
"He just lived for us. He wouldn't do anything wrong by us.
"He was always there whenever we needed him. He loved us. He doted on us."
Speaking after the verdict was returned Det Insp Gary Winter said: "The death of Robert Reid was a tragedy involving two men who had been friends for years.
"As the result of such a meaningless act of violence, Mr Reid's children are now without their father, while his partner and family must continue to deal with the loss of such a young life."
Judge Kinclaven jailed Riley for 10 years.