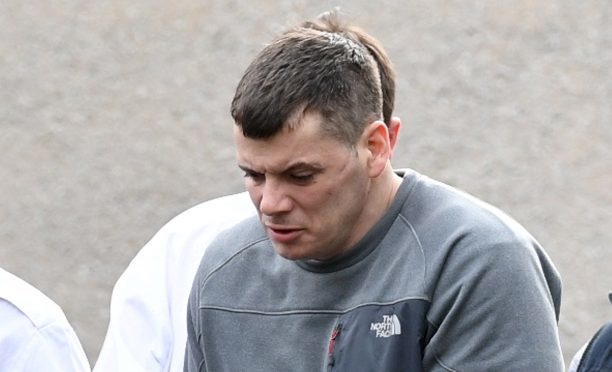 A career criminal who lashed out at a police officer and security officer at the city's sheriff court has been locked up.
Lee Stewart, 38, also attacked a taxi driver, leaving him with a fractured jaw.
Appearing at Aberdeen Sheriff Court, Stewart pled guilty to assaulting the G4S officer by striking her on the head and also to punching a police officer at the court on September 2 last year.
He also assaulted the taxi driver – just a week after he was released from jail – on October 18 on the city's Poplar Road by pushing and punching him.
Fiscal Depute Alan Townsend said in relation to the incident in court: "The accused was in overnight custody . He was transferred to the holding cells at 2.10pm and was prepared to appear in court.
"At 2.25pm he appeared in court in front of Sheriff Morag McLaughlin and was remanded in custody, bail having been refused. He is taken away fairly unhappy with that decision.
"The G4S officer was in the court at this time and the accused is described as directing his frustrations at her and threw his left arm and struck her to the right side of her face with his palm and that knocked her backwards."
Mr Townsend said on seeing this the police officer went to assist along with other G4S staff and Stewart was taken away from the court.
The fiscal went on to say the light in the holding cell went off and Stewart "launched his left arm with a clenched fist" and struck the police officer on his chin.
The court was told the G4S officer sustained swelling and bruising while the police officer had a cut to his mouth.
Speaking of the assault on the taxi driver, whose jaw fracture had to be operated on, the court was told Stewart opened the driver's door and that the man pushed him away. The taxi driver then went on to push him a second time.
Stewart pushed him back and the pair argued. At one point during the incident the driver had Stewart in a headlock before being punched by him.
Defence agent Alex Burn said the offences at the court happened after a delay in taking his client out of the dock.
He said, though it was "no excuse", his client had been frustrated.
Mr Burn added: "He apologises for his conduct in court to both the complainers."
He added that, in the "melee", the G4S officer was struck, and also said what Stewart did to the police officer was "unforgivable".
Speaking of the assault on the taxi driver, he said his client was "inebriated" and he pushed the driver in "retaliation" and then ran away. He was chased by the driver.
Mr Burn added that Stewart punched him when trying to free himself from the headlock.
He told the court: "This is a man who is institutionalised, he knows nothing but prison, most of his adult life has been spent in prison."
Sheriff Alison Stirling sentenced Stewart, a prisoner of HMP Grampian, to a total of 42 weeks, with 18 of those for the incidents in court, saying: "These are serious matters, you assaulted two individuals in the course of their employment – you also did that in the court building."