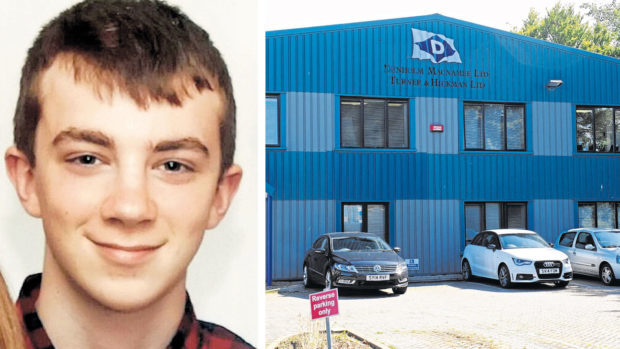 A man has been acquitted of killing a schoolboy in an industrial cable spooler machine.
Dean Reynolds had been on trial at the High Court in Aberdeen accused of culpable homicide over the death of Michael McLean, who was just 17 at the time and on the last day of a summer job at Denholm McNamee Ltd in Inverurie.
Mr Reynolds, 23, had denied culpably and recklessly operating the machine, which they had been painting, causing it to rotate while Michael was inside the drum on August 14 2015. Michael sustained severe injuries and later died in hospital.
The jury retired to consider the evidence at 2.35pm yesterday and took just one-and-a-half hours to reach a verdict of not proven.
The trial had previously heard how Mark McLean, Michael's father, who also worked at the yard, had tried frantically to save his son, giving him CPR until ambulance crews arrived.
During the closing speeches in the case, Mr Reynolds' defence advocate, Ian Duguid QC, criticised the prosecution case for not conducting any forensic examination and labelled it as a "prosecution at all costs".
Mr Reynolds declined to comment on the case outside court.
But Michael's father, Mark, speaking outside court, said he was "angry" at the outcome.
Following the trial, it can now be revealed Denholm MacNamee Ltd was fined £120,000 in December after it pled guilty at Aberdeen Sheriff Court to health and safety breaches relating to the incident.
Reporting restrictions had previously been imposed until the outcome of Mr Reynolds' case.
The firm admitted failing to ensure Michael was protected at work from risks to his health and safety which were a consequence of his lack of experience and the absence of his awareness of existing or potential risks.
It also pled guilty to failing to make a suitable and sufficient assessment of the risks to which he was exposed while he was employed there, failing to provide and maintain a system of work for painting the spooler that was safe, and failing to provide information, instruction, training and supervision.
At the hearing in December defence agent Mark Donald said: "These oversights were quickly and comprehensively remedied. The company has a good safety record and I'd like the court to categorise this as a one-off incident."
He added: "The company has asked me to again express their deepest sympathies.
"There's certainly no question of the company not respecting the seriousness of the matter."
Sheriff William Summers described the death as "tragic", adding: "I can't start to imagine the pain and suffering that Mr McLean's death has caused to his family."
Sheriff Summers added: "He appears to have been given no clear guidance of how to complete the work without getting into the drum.
"But for the failures of the company, this accident would not have happened."
The jury had retired at around 2.30pm today, and returned a not proven verdict.