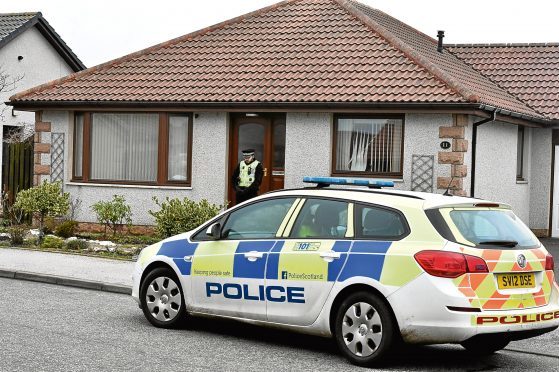 A murder-accused told a court yesterday he was "devastated" that his friend had died after he punched him.
Gary Crossan is on trial accused of murdering Malcolm "Raggie" Wright at an address in Peterhead earlier this year.
He is alleged to have stamped on and kicked Mr Wright's head and demanded money he was owed from the time the pair lived together.
Yesterday, the High Court in Aberdeen heard Crossan had offered at the start of the trial to plead guilty to assaulting Mr Wright by punching him twice.
He told the court he didn't tell the police what happened because he didn't think they would believe him.
The jury previously heard Crossan's girlfriend, Lynsey McKeachan, dropped him and Mr Wright off at the house on Peter Buchan Drive after picking them up from the town's Grange Inn Pub and that she came back and forth to the property several times that night.
Defence counsel Shelagh McCall yesterday asked Crossan to describe what happened. He said: "I came into the kitchen and Lynsey and Raggie were arguing.
"He took a couple of steps towards me. I thought he was going to hit me, I hit him once with my left hand and once with my right on his head near the eye socket area."
The incident was on January 25 this year, and Mr Wright, 56, died in Aberdeen Royal Infirmary nearly a week later.
Miss McCall then asked him how he felt when he found out Mr Wright had died of brain injuries caused by an assault.
Crossan replied: "I feel devastated. He was a good friend; I'm devastated for his friends and family."
The 31-year-old said he had wanted his friend to live, and when asked why he did not call an ambulance until the next day, he said: "I thought he was just drunk; under the influence of alcohol or drugs."
But advocate depute Alan Cameron seized on videos and messages on Crossan's phone and said he had been angry at Mr Wright and lost his temper.
The court was shown footage taken at 12.30am and 2.30am, showing Mr Wright on the floor being taunted by Crossan. In another video, Crossan was seen laughing at Mr Wright as he tried to rise.
The jury also saw messages he sent to Miss McKeachan vowing to harm him and get his money. Mr Cameron said: "You said those videos are not who you are, but what I am suggesting is that they are exactly who you are.
"You wanted your money, you punched him, kicked his head; stamped on his head. You might have regretted it afterwards and bought him lunch the next day, but in that moment you didn't care whether he lived or died."
Crossan had also been accused of a string of other charges, including previous assaults and attempting to murder Mr Wright.
He was also accused of telling his girlfriend to lie to the police but the charges were dropped by the Crown yesterday.
He now faces a single charge of murder, which he denies. The trial, before Lord Matthews, continues.