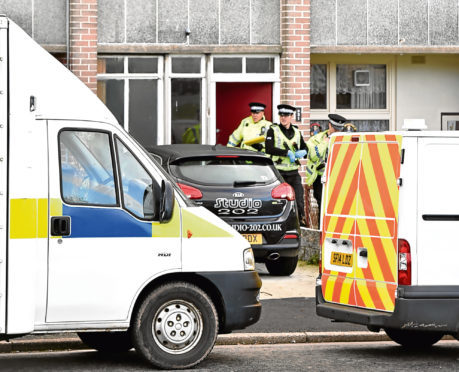 A jury has today retired to consider its verdict in the case of a man accused of murdering his Aberdeen friend.
Darren Barnes, known as Riley, 29, denies murdering Robert Reid at his home on Arnage Place, Aberdeen, on October 26, 2016, claiming self-defence.
Riley, whose address is given in court papers as Don Place, Woodside, is on trial at the High Court in Aberdeen accused of murdering Mr Reid by repeatedly striking him to the head and body with a knife or similar instrument.
Yesterday, Riley took to the witness stand to give evidence.
Defence QC Ian Duguid asked him: "What happened between the two of you?"
Riley replied: "We had a fight."
Asked how it started he added: "He wasn't happy with something I said."
Riley told the court Mr Reid had planned to fight another man, but that he had told him to "leave it" because the man would have "put him in bits" because Mr Reid had been drinking and taking drugs.
Asked what happened, Riley said: "He got up and punched me – took my teeth out. It happened really quickly."
He went on to say: "I said 'what do you think you're playing at? You're going to be left with no friends'. Then he got me again, then I realised he had a knife.
"He told me he was going to kill me. I said 'no you won't'."
Riley said Mr Reid then slashed him in the face with the knife.
He added: "I went in to fight or flight. I couldn't move. I had to fight."
Riley went on: "I'm not saying I never did anything. I'm fully aware that I did it. I blanked out."
Mr Duguid said: "You started to fight back, is that right?"
After he confirmed it was, Riley was asked why and said: "Because it didn't look like he was going to stop."
Asked if he could remember inflicting any of the wounds to Mr Reid, he said: "I don't remember inflicting any of them, but I'm not saying I didn't."
He added: "I was fighting for my life.
When asked by his defence if he thought his life was in danger, he said: "Of course, if I didn't think my life was in danger the reaction wouldn't have been like that."
Advocate depute James Keegan QC said: "What was it you told the lady police officer? 'It was Robert Reid that did this to me. He took a knife and slashed my face so I took it off him and slashed him back'.
"Does that sound like self-defence to you, or retaliation?"
Riley replied: "Self-defence."
Asked how he managed to stab Mr Reid nine times he replied: "I don't know. It's not like I was counting. It just happened."
In a closing speech to the jury, Mr Keegan said: "This is a truly tragic case, but we're not here to offer sympathy to the accused, or to the victim for that matter."
He went on to refer to comments Riley had made to police. He said: "'He slashed me and I slashed him back'. That, ladies and gentlemen, is eloquent of retaliation and not self-defence. They are his words."
In his closing speech Mr Duguid asked the jury: "What would you do if you're an unarmed man facing an attacker coming at you with an eight-inch blade in a flat?"
He added: "This is the most extreme of murder and self-defence cases.
"It's kill or be killed."
Mr Duguid continued: "He (Mr Reid) is, you might think, the author of his own misfortune, because he started it. And he started it in such a way that he would have killed Mr Riley if Mr Riley hadn't stopped him."
The trial continues.