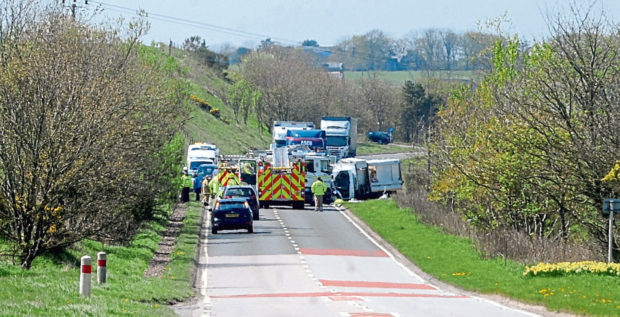 An engineer accused of causing the death of a north-east refuse collector in a crash says he has no memory of the journey – other than stopping to deal with a leaking gas canister.
Craig Ross is standing trial at the High Court in Aberdeen over the death of William Buchan.
It's claimed Ross's dangerous driving caused his van to move to the wrong side of the road and hit the vehicle being driven by Mr Buchan head-on.
Mr Buchan, 48, was driving his council work vehicle on the A90 Aberdeen to Fraserburgh road, near Hatton, in May 2016 when the tragedy happened.
Ross has launched a special defence of automatism and claims gas escaped from a canister in the back of the van, meaning he was not responsible for his actions.
The court previously heard he had been working as a refrigeration engineer for Integral Ltd at the time of the incident.
Giving evidence yesterday he claimed he remembered hearing a gas leak coming from the back of the vehicle so pulled over and sealed the leak.
He said his memory of events ended there. Advocate depute Alan Cameron challenged his evidence, saying: "The leaking gas bottle, the stop, you have just made it up."
The 29-year-old replied: "No."
The court previously heard that Integral Ltd placed a tracker device on its vehicles. Mr Cameron said the tracker indicated the stoppage lasted only 20 seconds and suggested it was unlikely he could have halted the vehicle, got out, opened another door, sealed a leak, got back into the driver's seat and set off again.
Mr Ross said this was what happened.
Earlier in the day forensic scientist Shirley Chin, who investigated the eight canisters in the van, said that no leaks had been found and gas was still present inside when she looked at them earlier this month.
Ross, of Fara Close in Aberdeen, denies the charge against him.
The trial, before Lord Burns, continues.