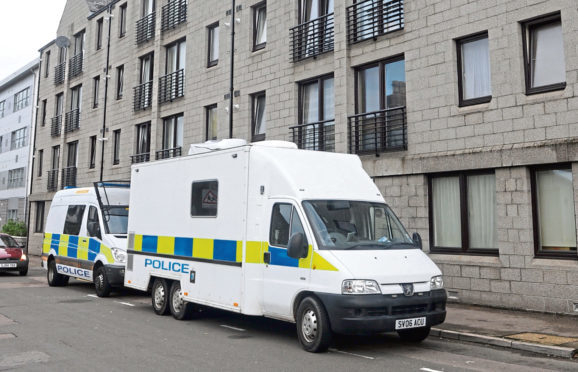 A man accused of murdering someone with a dog lead told a friend he needed to "go and hide" a chain, a trial has heard.
Ryan Gibb, 32, and Cameron Laurie, 33, deny killing James Chadwick on the night of August 31 into September 1 2015.
At the High Court in Aberdeen yesterday James Byers said he knew Laurie through a friend and had gone for a walk with them through a golf course in the days following Mr Chadwick's death.
Mr Byers initially said he told police he "never saw nothing", but advocate depute James Keegan QC read from a statement he gave to police.
He said: "Once in the field Cameron said 'I need to go and hide this' while holding up the chain dog lead.
"Nothing else was said about the dog lead, but I gather it was used in the murder of James."
Mr Byers confirmed he had said that to officers.
Brian McConnachie QC, representing Laurie, said: "Twice today you said 'I told the police I never saw nothing'. What does that mean?"
The witness said he didn't know.
The QC pointed out that and what his statement said couldn't both be true.
Mr Byers said: "I understand that."
The QC said: "So one way or another you've committed perjury."
He said: "Yes."
Evidence was also given by Professor James Grieve, who carried out a post-mortem on Mr Chadwick.During questioning by Mr Keegan, Mr Grieve – reading from a report he helped prepare – said: "We are of the opinion that this man died of blunt force head injury."
He went on to say marks on Mr Chadwick's body were "suggestive of them having been caused by footwear in the context of an assault involving kicking and/or stamping".
Gibb and Laurie are alleged to have murdered Mr Chadwick, at his Holland Street flat, by striking him on the face, punching and pushing him, repeatedly striking him with a dog lead or similar and kicking and stamping on his head and body. They are further accused of attempting to defeat the ends of justice.
The trial continues.