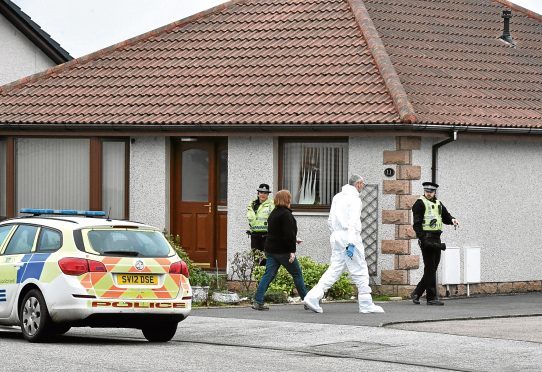 A man accused of attempted murder and murder told his partner the alleged victim was his step-dad, a court heard.
Gary Crossan, 30, went on trial at the High Court in Aberdeen yesterday, facing a string of charges.
Prosecutors claim he murdered Malcolm Wright as a result of an incident on January 26 this year at an address on Peter Buchan Drive, Peterhead.
It is alleged Crossan made abusive remarks and repeatedly demanded money from him, before repeatedly punching him on the head causing him to fall to the floor and lose consciousness.
He is further accused of pulling his legs, lifting and pushing them up – before repeatedly kicking and stamping on his head and "inflicting blunt force trauma" to his head and dragging him by the body.
Mr Wright died from his injuries at Aberdeen Royal Infirmary on February 1.
Crossan denies murdering Mr Wright, and also pleaded not guilty to the other charges he is facing.
He is accused of attempting to murder Mr Wright on December 16, as well as two other charges accusing him of assaulting him on various occasions.
Crossan is further accused of assaulting Lynsey McKeachan and making abusive remarks towards her, as well as assaulting her to the danger of her life.
He is also accused of sending her threatening messages regarding Mr Wright and photos of him in an injured state, as well as attempting to defeat the ends of justice.
Ms McKeachan gave evidence on the first day of the trial, telling the court she formed a relationship with Crossan after first coming into contact with him on a dating site.
She said she went on to meet him in person for the first time last September, travelling from her home in Peterhead to the Perth area.
Ms McKeachan said Crossan, who was accompanied by his dog and Mr Wright, said he was planning to take a holiday in Peterhead, and ultimately both men travelled back with her to the town and ended up staying there.
Advocate Depute Alan Cameron asked her: "Did you get any idea of who Malcolm was to Gary?"
She replied: "He told me he was his step-dad."
When the Advocate Depute asked Ms McKeachan how Crossan and Mr Wright got on, she said: "Sometimes they was really tight and other times it was cat and mouse, it was very volatile."
When asked what they would argue about she said: "absolutely anything", but added one of the issues they disagreed about was money.
Mr Cameron asked her if any of the arguments had ever become physical, and she said they had, and that she had seen this on "more than one" occasion.
Speaking of the night of January 25, Ms McKeachan said she had gone to pick up both Crossan and Mr Wright from the pub they had been at.
When asked how Crossan seemed in terms of having been drinking, she said: "I can not put it into words.
"You could tell he had a drink, he was not falling over the place or nothing like that. He looked a bit like, agitated."
She went on to describe Mr Wright as "really drunk". Ms McKeachan said that once back at the house Crossan was "wound up".
She told the court: "He was just going on. He was drunk as well. I said I was leaving, so then he started going off to me about leaving.
"We had a bit of an argument, it was just him going on. That's what he is like, he just kicks off over nothing."
She also said Crossan was shouting at Mr Wright after he said he had a curfew at the hostel he was staying in.
Ms McKeachan told the court she left after Crossan put the "crook of his arm" round her neck, and described feeling "scared".
However, she said she returned later on after speaking to Crossan on the phone and receiving messages from him.
She told Mr Cameron that Crossan said he was "raging" and that he needed her to come back and "calm him down".
Ms McKeachan said when she arrived at the house Mr Wright had a cut on the bridge of his nose.
She said: "I said, 'What's going on?' I already knew there had obviously been some sort of altercation. That's why I went down as I thought I would be able to calm him down."
She went on to say: "Gaz said something about getting his money that was owed to him. I said he (Mr Wright) could not give him money he's not got."
Ms McKeachan told Mr Cameron Crossan was shouting at Mr Wright, and when asked what about, she replied: "Just about money and that."
The trial before Lord Matthews continues.