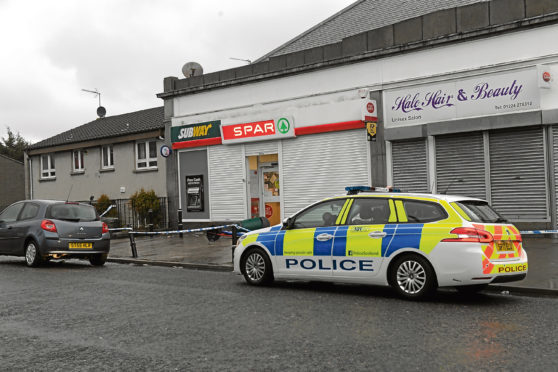 A man has appeared in court in connection with an alleged raid on a cash machine at an Aberdeen shop.
Ellis Boyd appeared in private at Aberdeen Sheriff Court yesterday facing charges linked to an alleged incident in which an ATM was damaged outside the Spar shop on Clifton Road, Aberdeen, on March 6.
The 26-year-old is accused of attempting to open a lockfast with intent and with an offence under Section 2 of the Explosive Substances Act 1883 – that he caused an explosion likely to endanger life or property.
Boyd is also charged with housebreaking with intent to steal and with an offence under Section 44, part 1 of the Vehicle Excise and Registration Act 1994.
That section of the Act reads that it is an offence to fraudulently alter vehicle registration documents or number plates for the use of another person.
Boyd, of Liverpool, has also been charged with three counts of contravening Section 5, part 2 of the Misuse of Drugs Act 1971.
That section of the Act states that it is an offence for a person to have a controlled drug in their possession.
Finally, Boyd is charged with having a bladed or pointed article in a public place.
Boyd did not enter a plea during yesterday's court hearing.
His case was committed for further examination.
Boyd will appear in court at some point within the next seven days and he has been remanded in custody in the meantime.
Police Scotland Detective Inspector Fionnuala McPhail said: "Thank you to all those who provided us with information in connection with this investigation at the time.
"Our inquiries are still ongoing and I would encourage anyone with information to contact 101 or Crimestoppers on 0800 555 111 to remain anonymous."