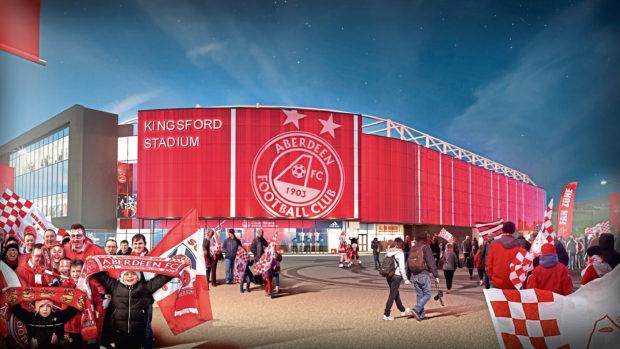 A councillor has called on all groups involved in delivering Aberdeen FC's controversial new stadium to engage with the public to stop the spread of misinformation.
Westhill and District councillor Iris Walker admitted the Kingsford issue has split the Westhill community and said she is now eager for the negativity to end to ensure the stadium benefits everyone.
Cllr Walker wants Aberdeenshire Council, Aberdeen City Council and the club to hold more public engagement events.
She said: "It is essential the club and the councils work together to ensure information is available to the public.
"It is important people's views are listened to, because that will allow those involved to create a development which benefits everyone.
"I have asked council officials to consider getting information out at key stages and arrange public meetings."
Kingsford project director Raymond Edgar revealed a series of meetings are already planned.
He said: "Our current focus has been on completing phase one – the community sports hub and football training facilities – by this summer.
"While the legal challenge was ongoing, all work stopped on phase two – the stadium and associated infrastructure.
"But we will shortly be picking this back up and working with both councils on clearing the conditions.
"On securing planning consent last year, we immediately set up a group comprising representatives from local community councils and sports groups.
"We will continue to engage with the local community to ensure we deliver facilities they need and can benefit from.
---
---
"A series of consultation events is being planned in the next few months to help shape the design of the stadium.
"We'll be seeking views on issues such as atmosphere, match-day experience, heritage and access.
"This will include looking at what community activities could be included in the multi-use space."
An Aberdeenshire Council spokesman said: "We have written to Aberdeen City Council to seek an update on negotiations concerning the second phase of the development, particularly regarding compliance with conditions that affect Aberdeenshire.
"We have been assured we will be involved at the appropriate time and are happy to discuss opportunities for public engagement."
A spokesman for Aberdeen City Council said: "As the planning authority, we carried out extensive public engagement during the consideration of the planning application for the new stadium.
"This included the opportunity for all those interested to express their views at two separate public hearings and we took into account all views expressed."