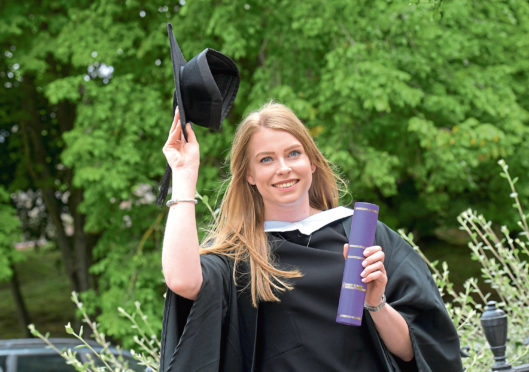 A dedicated student has faced countless daily commutes in order to complete her studies at an Aberdeen university.
Anna Ferguson graduated from Robert Gordon University with merit in Masters in Pharmacy.
The ceremony was held at His Majesty's Theatre yesterday.
Anna, a former Mintlaw Academy pupil, lived at home during the time she spent at university and had to make a round trip of 96 miles almost every day so she could attend lectures.
Anna said: "Admittedly it wasn't always easy, needing to spend between four and five hours on the bus on a daily basis, but I'm honestly glad that I did it.
"They say good things come to those who wait and I think that having to make that extra effort helped me push on to secure my Masters with merit."
Anna's interest in the course was sparked as a teenager when she felt it would be suited to her love of working with people.
The 22-year-old believes that her experiences over the past four years have prepared her for the future, as well as providing an in-depth understanding of and interest in her chosen profession.
She said: "The staff at the School of Pharmacy and Life Sciences have provided me with so many opportunities to push myself out of my comfort zone and learn in the most effective way.
"From placement opportunities – like a week at Raigmore Hospital – to various simulation exercises, these opportunities continually reminded all of us of the types of situations we would need to prepare ourselves to face in our role as pharmacists."
Anna said she was grateful for the support she received from the university, explaining that they had "guided" her through the registration and interview process, which she needs in order to secure a place as a pre-registration pharmacist.
She added: "I'm excited to really get started and my university experience has been a successful one."
Following her graduation, Anna will begin her pre-registration year with a community pharmacy located in Aberdeen.
She said she's unsure of the next steps in her career after that, but hopes to continue working within the local community.