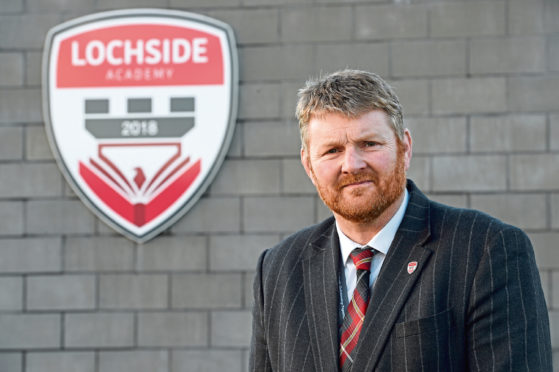 The head teacher of a new £47 million academy has been quizzed by the community over "damaging" claims that pupils have been taking drugs and having sex in toilets.
Lochside Academy's head teacher Neil Hendry was present at Torry Community Council to address concerns about the ongoing issues at the school.
Rumours have been circulated on social media of pupils engaging in sexual activity in the school's unisex toilets and of drug use, which Mr Hendry said were untrue.
In January, Police Scotland launched a five-day operation centred on bus stops in Torry, Kincorth and Cove after residents claimed children attending the school were causing antisocial behaviour and taking drugs.
Mr Hendry praised staff at the school for tackling many of the issues.
He said: "Lochside Academy has been by far the biggest project undertaken by Aberdeen's education department – it's a huge project. We have had a huge amount of success in the last six months, but there have also been a lot of challenges."
On the issue of drugs, he said: "There have been no incidents reported or had to be investigated about young people with drugs on buses.
"At the start of term there were some challenges around drugs.
"They are no different to the challenges that every secondary school in Scotland is facing."
He added: "At the start of the year, young people were wandering around Wellington Road smoking cannabis quite openly.
"And we were dealing with regular incidents when we were catching young people doing these various things in the school – but that has stopped."
He said staff and parents had been "proactive" and worked "really hard" to solve the problem.
---
---
Another point of conflict was the introduction of unisex toilets, which Mr Hendry said were "unsuccessful" according to pupils.
The results of a survey into the issue – which attracted more than 500 responses – will be passed on to the local authority.
Mr Hendry also addressed claims on social media that pupils were having sex in the toilets.
He said: "This is where social media is really hurting us at the moment as a community.
"Things are being posted and are being escalated. It's doing a lot of damage to the young people since it's their school.
"We try to use it as positively as we can as a school, but it is damaging."
Mr Hendry added one of the school's biggest challenges has been its size.
He said: "One of the challenges about Lochside is the size of it and the inability to close any part of the school down. When Torry and Kincorth Academy were open, at lunchtime there were loads of parts of the school that the young people couldn't get in to."
He added: "Because of the size of the school, we can't be everywhere."