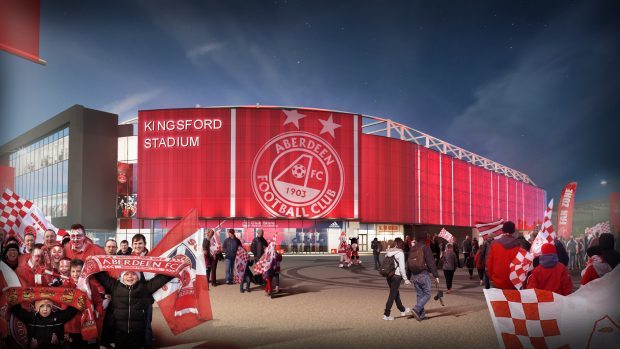 A council meeting to make a decision on Aberdeen Football Club's plans for a new £50 million stadium at Kingsford is now under way.
City planners have backed the project and today said the project would lead to "significant public benefits" for the region, both economic and social".
Senior planner Gavin Evans said there are "tensions" in the transport policy but that this is mitigated by a green travel plan and provision of shuttle buses.
Councillors were told if they approve the application today formal notification would be given to Scottish Ministers given an objection made by Aberdeenshire Council.
They would then have the power to call the application in, should they see fit.
Objections have been raised on grounds including the loss of green belt land.
---
Aberdeen FC's Kingsford stadium plan approved by councillors
---
15.17: What is coming out of the meeting is just how seriously all the councillors present are taking this application.
Many have spoken about how this has been a very difficult decision to make and it has weighed on their minds.
Others have been complimentary about the work of Aberdeen City Council's planning team and about the input of residents and community councillors.
Cllr Boulton called the decision "a minefield" and said that, whatever is decided today, it is important that the council continues to listen.
---
Summing up now. Vote to be taken immediately after this #kingsford

— Adele Merson (@EEadele) January 29, 2018
---
15.14: Cllr Marie Boulton, who is against the application, is now replying to some of those who have spoken in favour of the scheme.
In particular, she is taking issue with those members who have said that they support the application because the council's planning team have recommended it for approval.
She is arguing that it's not that simple and that occasionally, councillors vote against an officers recommendation.
---
15.10: Cllr Ryan Houghton has just spoken – briefly – in favour of the application and Cllr Claire Imrie is currently giving her view.
"This is one of the hardest decisions I've been involved in as a councillor. I feel this application is right for the city," she said.
---
15.05: You'll have to be patient for a few more minutes, folks.
We're told that, after Cllr Hutchison, at least two more councillors are set to speak before the vote.
Cllr Hutchison said: "Everything that I have been sent (in the reports) I've read and considered. It's an incredible feat.
"I did have concerns about traffic and the green belt. The reason I'm supporting this is that the reasons for approval set out in the report are enough to approve it.
"Alternative sites either aren't available or appropriate. I'm quite happy that Kingsford is a suitable site for the development to go ahead.
"As for transport (considerations) there are 13 conditions and two of them relate to travel plans. It is what will work for that area."
---
15.01: Cllr Gordon Graham is speaking in support of the application.
"I do think it will enhance community facilities in the area," said Cllr Graham.
He added: "I'm sure that whatever replaces Pittodrie, it will provide 24/7 business usage rather than the 24 days it currently offers."
Cllr Graham said it is important Aberdeen has facilities as good as Manchester City, Barcelona and Lyon "though I don't think we will ever be as good as them (as a team)".
The final speaker is Cllr Michael Hutchison – then it may well be vote time.
---
14.57: So far, we've had 13 speakers – nine in favour, four against.
We've got two more speakers and then it'll be down to a vote of the 40 councillors in the room.
---
14.56: Cllr Alex Nicoll is the next speaker.
He is emphasising what the council planning officers' said in their report about the benefits of building the stadium to the city.
He added: "I would respectfully suggest that officers have provided a reasoned argument as to why this should be approved and I find myself in agreement. I find no reason why we shouldn't embrace this as something that will benefit Aberdeen city and the region going forward."
---
Cllr Stephen Flynn, supporting application: "I'm astonished anyone would turn down the opportunity for Aberdeen to be a progressive place" of the 13 councillors who have spoken so far 9 in favour and 4 against #kingsford

— Adele Merson (@EEadele) January 29, 2018
14.50: Cllr Stephen Flynn said: "This is a tremendous opportunity for our city to show people we want to be progressive, modern and forward thinking.
"We can turn it down and look parochial.
"We want to change the perceptions of this city.
"I have no emotional connection to Aberdeen Football Club. We are there to judge the merits of the application before us.
"There will be events at the stadium every second week. That is not a substantial amount of visitors to an area."
---
14.47: Cllr Neil Copland said: "If we turn this down, what are we going to lose? There is the potential there for jobs.
"Can we persuade people (who want to invest) to come to Aberdeen rather than Dundee? We've got to send a message out there that we're open to proposals.
"Is this application perfect? No it's not – but this is the only game in town.
"The planning officers say 'yeah, do it' – with conditions. If we chuck it out, what does that tell the rest of Scotland? That Aberdeen is insular. Let's show them we're not."
---
14.44: Cllr Sandra MacDonald said: "I cannot support this. I have concerns, particular about traffic and pedestrian safety and I fail to be convinced about some of the assumptions about passenger travel.
"I am an Aberdeen fan and go along (to games). I take on board what members have said about the application and we've heard it's finely balanced."
---
Now four against after Cllr Macdonald declares she is against the plans

— Adele Merson (@EEadele) January 29, 2018
---
14.40: Cllr Sarah Duncan has spoken out in favour of the application and has urged her colleague to do the same.
The next speaker is Cllr Bill Cormie, who is also in favour.
He said: "There are concerns that the stadium will create noise – that's what stadiums do.
"The city centre is going to suffer a little bit but I think the folks in the city are going to use the same pubs and get the shuttle buses to the stadium."
---
14.37: One important contrast between this meeting and most other council meetings is that there is no party politics at play.
Very often it is easy to predict how a decision is going to go based on who has spoken in favour of what – but that doesn't apply to today's meeting and so it's very hard to tell how the vote is going to go.
---
Cllr Stuart supporting application: "I want AFC to be proud of this council taking a forward step" #kingsford

— Adele Merson (@EEadele) January 29, 2018
---
14.32: Cllr Freddie John is now giving his view on the application.
He said: "I feel the club has made a very strong case for co-location of the training facilities and the stadium and that they have looked at all alternative sites in the city, and that this is the most viable site.
"It is clear that Pittodrie is not a fit site for the future.
"Overall, (council) officers are satisfied that the issues around green belt and traffic can be mitigated."
---
14.24: Cllr Sandy Stuart said: "I will be supporting (the application).
"I was introduced to Aberdeen Football Club sometime in the 1950s. My late father used to take me along (to matches) in a little wooden chair. It was for me to stand on to see over the dyke at the old enclosure.
"I progressed through the years seeing happy times and dreadfully sad times at Pittodrie and I will be sad to see Aberdeen leaving it, but needs must and a new stadium out of the city is the right decision.
"One of my happiest memories is dashing up the stand just in time to see John Hewitt score the winning goal against Real Madrid (in the UEFA Cup Winners' Cup final in 1983)."
---
Cllr Delaney said the Kingsford application has not gone through the "due process" and "clearly fails to satisfy the planning guidelines" #kingsford

— Adele Merson (@EEadele) January 29, 2018
---
14.24: Cllr Steve Delaney is now speaking against the application.
He said: "I have concerns about pedestrian safety on the A944. With a large number of pedestrians using this foot from the park-and-ride, there is a real risk of injury."
Cllr Delaney is also expressing concerns about how an out-of-town stadium could have a negative impact on city-centre businesses.
---
14.17: The next speaker Cllr Philip Bell is now speaking against the application.
He is listing lots of reasons that he believes the scheme should be turned down.
"Couldn't the existing stadium (at Pittodrie) be rebuilt stand by stand?"
---
14.14: Cllr Boulton says she "doesn't agree" that there's no alternative sites for a stadium. And suggests council should be having conversations on the current AECC site at Bridge of Don
---
---
Cllr Cooke in support of the plans: "if we turn this down the signal we will be sending to potential inward investors to Aberdeen is they better take their money and their jobs elsewhere" #Kingsford

— Adele Merson (@EEadele) January 29, 2018
Cllr Donnelly: "we have to move forward economically… don't send signals out to businesses and people by not supporting the proposals that we have on the table" #kingsford

— Adele Merson (@EEadele) January 29, 2018
---
14.02: Councillor John Cooke is now speaking of support of Cllr Alan Donnelly's recommendation.
---
14.00: Cllr Donnelly said: "Green belt is not sacrosanct. Westhill is expanding and is in need of more housing and retail."
He added: "Aberdeen is a regionally-supported team. They are doing well at the moment. If they are doing well, that cascades onto the city and we should be supportive of that.
"This will create 400 jobs. Do we want to say 'no' to that?
"We have to move forward. You don't send signals out to businesses by not supporting the proposals that we have on the table."
---
13.57: The hearing has resumed once again and Councillor Alan Donnelly is now giving his view on the committee.
He has expressed concern about whether there would be enough on-site car parking spaces at the stadium and whether the application is suitable for green belt land.
---
Councillor Boulton's amendment to reject the plans for new stadium and enter into dialogue with AFC to find a new location #kingsford pic.twitter.com/AIeSTpPDbB

— Adele Merson (@EEadele) January 29, 2018
---
Motion by Councillor Donnelly in favour of approving application. Amendment to come imminently. pic.twitter.com/8HxaM8npiu

— Adele Merson (@EEadele) January 29, 2018
---
Another 15 minute recess while they "finesse" the amendments.

— Adele Merson (@EEadele) January 29, 2018
---
Another recess. Cllrs Donnelly and Cooke proposing accepting officer recommendation to approve application. Amendments being discussed currently. Unsure what they say yet.

— Adele Merson (@EEadele) January 29, 2018
---
13.05: The convener is giving the councillors an opportunity to read all the amendments that will be proposed, so there will be a 20-minute break while that happens.
---
13.03: Now all the questions have been asked and answered, we have moved onto the decision part of the meeting. However, this may take some time.
The process is that one councillor will support a recommendation and another councillor will support that and then there is the chance for other councillors to effectively oppose that recommendation by tabling amendments.
The committee is now discussing how this process will work.
---
13.01: We're back under way. There are more questions – and the committee is currently considering what would happen to Pittodrie if the new stadium plan gets support.
The council is pointing out that the Dons don't need to explicitly say what will happen to Pittodrie – only that the site will be managed properly and the club has tabled an environmental report to address those points.
---
Break for lunch. Meeting will resume in 30 minutes with debate to begin #kingsford

— Adele Merson (@EEadele) January 29, 2018
---
11.59: Application involves plans for music to be played at new "fan zone". Council officer states he is "not aware" of any recent complaints regarding noise at the existing Pittodrie Stadium.
---
https://twitter.com/EEadele/status/957939033577009152
---
Separate applications for a controlled parking zone (CPZ) and pedestrian overbridge would need to be submitted to Aberdeenshire Council. Senior planner Gavin Evans admits this could be described as a "veto" over the application.

— Adele Merson (@EEadele) January 29, 2018
However councillors are told this shouldn't have a bearing on any decision made on today's application.

— Adele Merson (@EEadele) January 29, 2018
11.19: It has emerged from early answers given by council officers that AFC would need to send separate applications on controlled parking zones and for a required footbridge to Aberdeenshire Council.
Councillor Neil Copland asks if this gives Aberdeenshire a "veto" over the application. Senior planner Gavin Evans admits it could, saying their "involvement and say" would be required.
---
11.11: Councillor Marie Boulton is questioning officers on issues related to the travel assessment, stating there are already problems on the A944 in terms of peak time congestion.  Cllr Boulton asks officers if there is sufficient capacity "on top of a stadium that wasn't zoned for".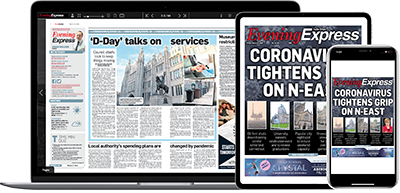 Help support quality local journalism … become a digital subscriber to the Evening Express
For as little as £5.99 a month you can access all of our content, including Premium articles.
Subscribe