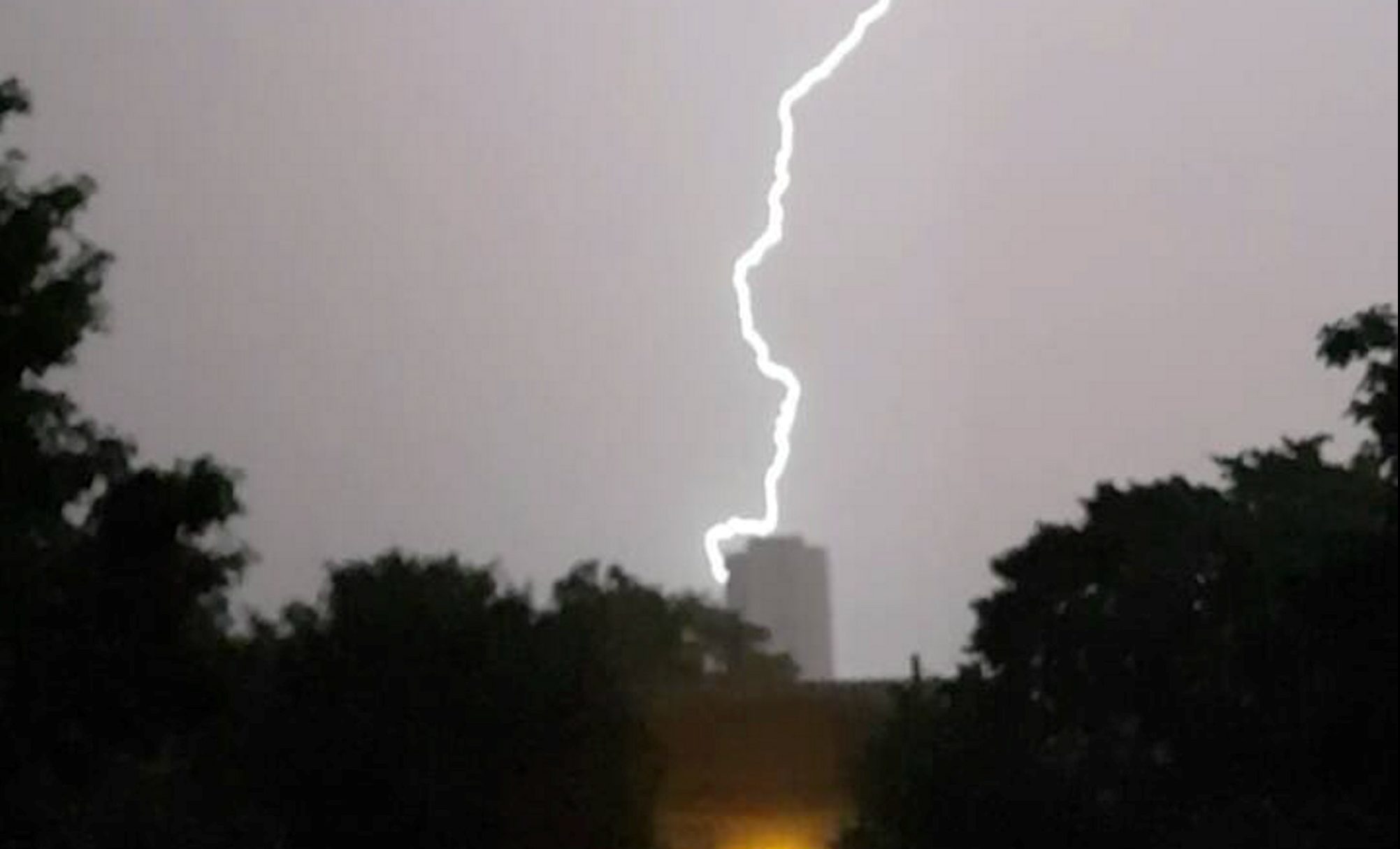 This picture shows a broken lightning conductor on a residential council block which was struck by a powerful bolt.
Residents were forced to use the stairs at the 20-storey Promenade Court in Seaton, Aberdeen or face being stuck in their homes after lifts lost electricity following the strike.
Aberdeen City Council launched an investigation following the incident.
Now the Evening Express has obtained an image which appears to show a cut-through lightning conductor on top of the building.
But the local authority has refused to name those responsible for the broken cable of the device – which is designed to divert lightning away from the structure – and is remaining tight-lipped as to whether it will be taxpayers who have to foot the bill for repairs.
After lightning hit Promenade Court on Tuesday, July 19, power was lost to the elevators. Marie Edwards, a mother of two small children who lives on the 12th floor, was forced to stay in her home.
Related: Video shows the moment a lightning bolt appears to hit Aberdeen tower block
Marie, who is asthmatic, said she had to cancel a doctor's appointment for her eight-month-old daughter because she couldn't get down the 24 flights of stairs with her kids, pram and heavy bag.
The 24-year-old said: "I can barely carry myself up the stairs to be honest. Without the lift it's a nightmare, I had no option but to stay in."
The two lifts within the premises are now operational.
A council spokeswoman said the lighting conductor makes no difference to protecting power following a lightning strike, but could not say what other use it has.
When the Evening Express asked NICEIC, a leading UK regulatory body for the electrical contracting industry, it said it could have an impact and furthermore a broken conductor could pose a safety risk and it would advise that it be fixed.