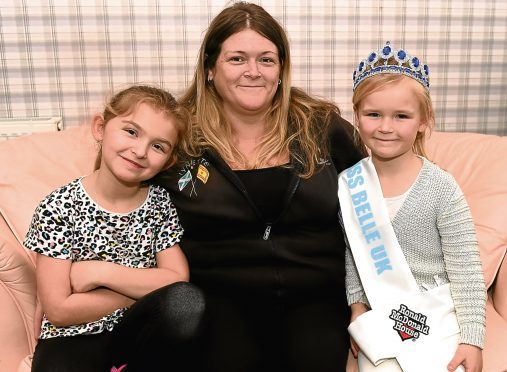 A North-east girl is to have life-changing surgery after doctors found a hole in her heart during a check-up to treat a rash.
Layla Sangster's mum Lynette hopes the operation to fix the "ticking time bomb" will give her daughter a new lease of life.
Lynette, 36, recalled her shock at hearing her daughter's diagnosis of an atrial septal defect during a hospital visit.
She said: "We went to A&E for her rash and they were doing basic checks – that's when they heard the murmur. It was four days before her seventh birthday.
"The way they said it was as if I was supposed to already know. I just went into shock. My biggest fear was that I was going to lose her. You do go straight to the worst-case scenario."
Lynette, a full-time mum, says she had no clue about how serious the condition was, although she noticed that sometimes Layla lacked her siblings' energy.
She added: "The way it's been described to me is as though it's a ticking time bomb.
"She could have been 60 before they found it so we're feeling relieved that we have it now, and we're fixing the problem.
"We're hoping it will give Layla new lease of life.
"She was never as energetic as other children and never had quite as much energy as her siblings. After we found out about the heart condition, we suddenly sat back and realised that all these small things weren't quite normal."
Lynette and her family are now hoping to create something positive out of the situation by raising money for charity.
While they are in Glasgow, prior to the surgery at Yorkhill Hospital, Layla and Lynette will stay in The Ronald McDonald House, which provides free accommodation for families.
Now, Lynette and her partner Sammy are organising a fundraising event at the Kemnay Bowling Club on March 31.
Lynette, who has two other daughters, Shakira aged 15 and Payton aged nine, and a son Nathan, who is 17, said: "I have three daughters and all of them were involved in pageants.
"Layla is currently the Miss Belle Scotland Princess 2017-2018 and the charity they supported was actually the Ronald McDonald House. It almost feels like fate that we should now be in a situation where we need them.
"Sammy has taken the lead with this and he's been fantastic."
Sammy said: "Layla is like a daughter to me and I wanted to do something for her.
"Given the connection with the charity and what they're going to do for Layla, I decided I really wanted to do this and it's taken off amazingly. We've had so many local businesses and football teams wanting to get involved. People have been so generous."
Ex-Dons player Derek Soutar is also set to host and MC the event .
Sammy added: "Derek had a similar experience when his son was born and he has been a massive influence on me and the event."
Lynette said: "The community has really rallied behind us and Kemnay is such a family-oriented place, so it's been great. I've always loved my family but a situation like this really brings it home."