A decision to create two co-leaders positions to run Aberdeen City Council will help move the city forward, according to the new administration.
But the change was met with fierce criticism from SNP opponents at a meeting of all councillors yesterday.
Councillor Jenny Laing – who is still suspended from the Labour party – and Conservative Douglas Lumsden were confirmed in the roles by 23 votes to 17, while there were three abstentions from the Liberal Democrats.
SNP group leader Stephen Flynn asked officers how the role of leader would be split between the pair, adding it was "questionable" whether they should both still receive a full salary for what is a "lesser job".
He added: "It is profoundly disappointing that in order to force through their plans, the administration have seen fit to force through a change in the rules by which we operate.
"What's the point of having these rules if they can be changed to suit political agendas?
"Ultimately, we will now have a Tory who is sharing the title of co-leader but given the extra power that comes with convening the finance committee.
"It is clear this will not be a partnership of equals, and that this will be a Tory-led administration.
"Meanwhile Jenny Laing will be keeping her title and full-time wage for what is a job with much fewer responsibilities," he said.
"Once again it is clear that this administration is simply about positions and power rather than what's best for Aberdeen."
Fraser Bell, the council's head of legal and democratic services, said it would be for the co-leaders to decide how best to discharge their roles.
The electorate didn't vote for any party to hold a majority in this city.
Council co-leader Cllr Laing, said it was "quite clear" the arrangement had previously worked for other councils – including at Aberdeenshire Council.
She added:"I think everyone in the city has been aware that we always intended to set up a co-leadership.
"It's always been at the forefront of this coalition's vision of always moving forward in partnership."
Cllr Laing added that Cllr Flynn had tried to block the move because he was "still smarting" at not sitting in administration in the chamber.
She said: "The electorate didn't vote for any party to hold a majority in this city.
"They wanted to see us working in co-operation and partnership."
Cllr Laing also claimed the SNP group leader had offered to share a similar co-leadership arrangement with Labour after May's election.
SNP councillor Alex Nicoll branded the move "political posturing" rather than a preference for a co-leadership arrangement.
He added: "We have one co-leader who comes from a party supporting austerity and the other who comes from a group that espouses socialist conscience."
But Liberal Democrat group leader Ian Yuill said he didn't think it was unreasonable to establish a co-leadership.
He added that while he would not block the move, he could not vote for the Conservatives' Cllr Lumsden to take the position.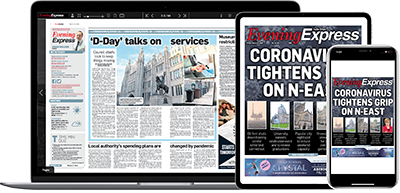 Help support quality local journalism … become a digital subscriber to the Evening Express
For as little as £5.99 a month you can access all of our content, including Premium articles.
Subscribe