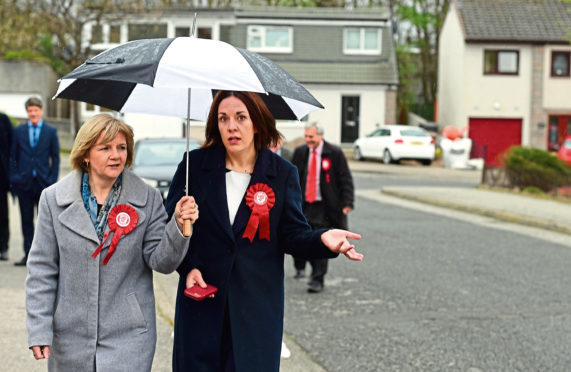 Today marks one year to the day since nine Aberdeen councillors were suspended from the Scottish Labour Party for entering into a power-sharing pact with the Conservatives.
And 12 months on, the group's suspension remains "under review", with no indication of when a decision will be reached.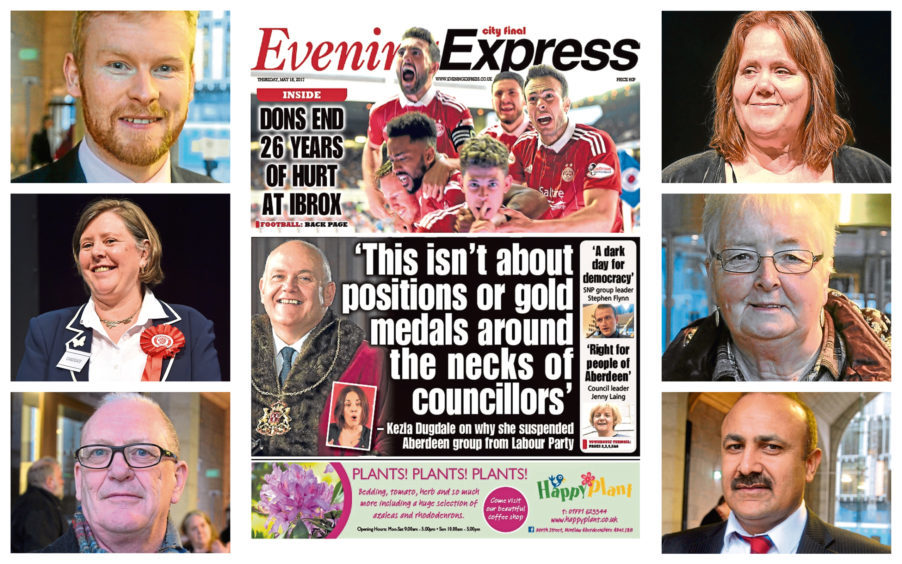 The group, which now calls itself Aberdeen Labour, was suspended by Kezia Dugdale the day the coalition was agreed on May 17 last year – and councillor Jenny Laing was made co-leader of the local authority while Barney Crockett was named Lord Provost.
At the time, Ms Dugdale slammed the councillors in question whose job was to "defend public services" and not "about positions or gold medals around the necks".
Today a senior Scottish Labour source told the Evening Express the delay in reaching a decision after 365 days showed a "complete lack of leadership".
They added: "This whole debacle has dragged on for far too long now.
"Whatever the rights or wrongs of the original decision, the group recently put forward one of the most radical anti-austerity budgets of any local authority.
"It clearly met the tests set out by the party and it's simply embarrassing that we're kicking this decision into the long grass again.
"It shows a complete lack of leadership from the top and is a shoddy way to treat the voters in Aberdeen."
---
Who are the suspended nine councillors
Yvonne Allan – Torry/Ferryhill
Barney Crockett  – Lord Provost – Dyce/Bucksburn/Danestone
Lesley Dunbar – Hilton/Woodside/Stockethill
Sarah Duncan – Kincorth/Nigg/Cove
Gordon Graham – Northfield/Mastrick
Ross Grant – Tillydrone/Seaton/Old Aberdeen
Jenny Laing – Midstocket/Rosemount
Sandra Macdonald – George Street/Harbour
M. Tauqeer Malik – Lower Deeside
---
The local authority's SNP group has demanded Labour must permanently expel the nine councillors, adding they must also call for the group to stand down as councillors.
Stephen Flynn, the SNP leader on Aberdeen City Council, branded the lack of decision-making as a "complete embarrassment".
He added: "A whole year has passed since these disgraced councillors were suspended for propping up the Tories. Labour need to make a final decision.
"Will they sack or back councillors who are wedded to austerity and intent on cutting local services and hundreds of jobs?
"But that alone won't go nearly far enough. These nine councillors were elected on a false prospectus last May.
"Labour should add their voices to growing calls for them to stand down. If they're unfit to serve as Labour councillors, then they're clearly unfit to serve the people of Aberdeen.
"Labour stated last year that being elected wasn't 'about positions or gold medals around the necks of councillors'. If they truly believe that then it is high time they took definitive action.
"Aberdonians should be granted an opportunity to elect candidates who will stand by the values on which they were elected."
Richard Leonard, who took over from Ms Dugdale in November, previously said the nine councillors would be given the chance to prove their opposition to austerity in February's council budget.
However, no decision has been forthcoming and while the matter was discussed at the most recent Scottish Executive Committee (SEC) meeting in April, the suspension remains under review.
Mr Leonard declined to be interviewed on the subject by the Evening Express.
However, in a statement released by the Scottish Labour Party he said: "The Aberdeen group has committed to make further progress to deliver policies that will benefit the people of Aberdeen.
"The Scottish Executive will keep their suspension under review during this process."
In November the Evening Express revealed leaked papers from Scottish Labour's executive committee showed the suspended nine believed they are leading their "inexperienced" Conservative administration partners and had them implementing left-wing policies.
The councillors also claimed the group was surprised at how easily the Tories agreed to Labour's policies, while some members of the group said they would pull out of the deal should the Tories stop supporting the party.
Council co-leader Jenny Laing, said: "It is now six years since Labour took over the running of Aberdeen City Council with our coalition partners following the disastrous SNP/Lib Dem administration of 2007/12 which inflicted £127m of cuts to frontline services.
"SNP austerity from Edinburgh has ensured Aberdeen City Council remains the lowest funded council in Scotland.
"This year our coalition partners agreed to commit to all 15 Labour manifesto pledges and these are embedded within the council's five-year strategic plan.
"Our total focus is on the needs and aspirations of the citizens of Aberdeen and moving our city forward whilst Councillor Flynn and his SNP colleagues are only focused on their party political status."
Suspended Labour councillor Sandra Macdonald, who represents George Street and Harbour, said a change in leadership from Ms Dugdale to Mr Leonard had contributed to a delay.
She added: "I'm convinced the Scottish Executive will want to come to a view before too long and I hope they will want to resolve the situation with positive outcomes.
"We're doing the daily business and delivering Labour policies across the board.
"I just think there's a process to go through and it's been a long time I would agree, but part of that is because of changed leadership with Richard Leonard."
Councillors Ross Grant, Gordon Graham, Lesley Dunbar, Sarah Duncan, Tauqeer Malik and Yvonne Allan could not be reached for comment.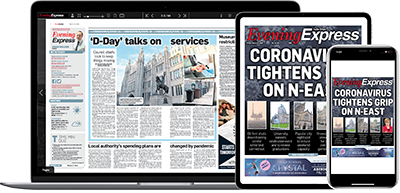 Help support quality local journalism … become a digital subscriber to the Evening Express
For as little as £5.99 a month you can access all of our content, including Premium articles.
Subscribe