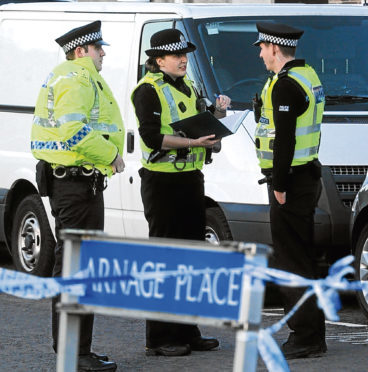 An "armoury" of knives – and even a sickle – were found in the flat where a young dad died, a murder trial has heard.
The High Court in Aberdeen also heard Darren Barnes, known as Riley, 29, who is accused of murdering Robert Reid, gave a statement to police in which he said his deceased best friend produced a knife and "said he was going to kill me".
Riley denies murdering Mr Reid at his home on Arnage Place, Aberdeen, on October 26, 2016 – claiming self defence.
On the fourth day of the trial, evidence was given by forensic scene examiner Jason Parker, who took images of a route between the flat on Arnage Place and an address on Willowpark Place, where blood spots were found.
The court previously heard Riley had turned up covered in blood and cuts, at the Willowpark Place address in the early hours of the morning.
Mr Parker was called to photograph an object found outside the Willowpark Place address.
Advocate depute James Keegan QC said: "Was this a knife that had been discovered by a police search team searching the area?"
He said: "Yes, that's correct."
Mr Keegan showed the court an image from the scene and asked: "Do you see a knife with apparent blood staining on it?"
Mr Parker replied: "Yes."
Riley's defence QC Ian Duguid asked if he knew that officers had searched the flat on Arnage Place on November 1, 2016, and Mr Parker replied that he had been unaware. Mr Duguid went on to say: "This uncovered a whole armoury of knives in the bedroom."
He added: "In fact, in all, 23 different knives are taken from the inside of this flat. I was wondering whether you had been requested to go and photograph any of them."
Mr Parker replied: "No, not subsequently."
Mr Duguid asked: "Did nobody ever think about taking close ups of the knives, bearing in mind the allegation here is murder by use of a bladed weapon?"
He replied: "Not in specific terms."
It was also said by Mr Duguid that a sickle, and four blocks of cannabis had been among the items recovered from Arnage Place.
Re-examining the witness, Mr Keegan asked Mr Parker: "Did you see anything as you went through this flat taking photographs that would have represented itself to you as an armoury of knives?"
He said: "No."
Police officer Steven Scofield was asked by Mr Keegan if the knife found outside Willowpark Place had been immediately visible.
He said it wasn't and told the court it was under a paint tray.
Detective Constable Carol Crawford also gave evidence and read out a statement Riley gave to police during his formal interview.
The court heard it said he had known Mr Reid for 14 years, it said: "Last night we were drinking together and he consumed a lot of valium.
"We were both happy, then his mood changed. He got a knife and started mucking around with it and said he was going to kill me.
"I thought he was joking. He then attacked me.
"He tried to slash my face. I put my hands up to defend myself.
"He cut me and punched me. We struggled and fought. I managed to escape."
Police constable Richard Shepherd also gave evidence.
Asked about attending Arnage Place that night he described "large amounts of blood within the flat and up the walls."
He added: "In the living room there was a table with what I would describe as a meat cleaver."
The trial continues.