A north-east community group has knitted more than 7,500 Remembrance poppies.
In May the group of churchgoers from Westhill said they hoped to produce 1,918 poppies, which would mark the 1914-18 war, in time for Remembrance Day.
Since then, almost 8,000 poppies have been sent to the group from across the UK – including Glasgow, Edinburgh and parts of England – and creations were even sent from as far away as Australia to be part of the project.
Project co-ordinator Aileen Reid said a previous story in The Evening Express had helped boost the cause.
She added: "We simply didn't realise how many people read the Evening Express online and guess from some of their emails that they are ex-pats living away from home and using the EE to keep in touch with their roots.
"As well as the fantastic effort by local knitters across Aberdeenshire, we have received poppies from Glasgow, Edinburgh, and both the north and south of England.
"We are really touched by this kindness and by the time taken by lots of people to contribute to the project.
"We have now received almost 8,000 poppies and are looking forward to displaying them all during Remembrance week."
---
---
The poppies will be on display at several places across Westhill, including Trinity and Skene churches where the original knitters attend, as well as Westhill Library, the Village Store in Skene, the Hampton by Hilton Westhill and local charity SensationALL – which offers services to people with multiple support needs and their families.
Reverend Stella Campbell, who oversees Westhill and Skene Church, said: "What started as a small, church-based project has grown way beyond our expectations.
"It has encouraged lots of groups of people to come together, knitting or crocheting poppies, and often sharing memories from their childhood and younger years.
"We have knitters in their 80s and children from Skene Primary School joining in."
She added: "It has created a great sense of community as well as benefiting the Poppy Scotland appeal, with a small donation from each poppy bag going to the charity.
"We all now hope that young and old alike will plan walks and visits to see the poppies between November 8 and 11 throughout Westhill and Skene.
"I'd like to thank The Evening Express for printing this story and helping us to bring our community together in this way."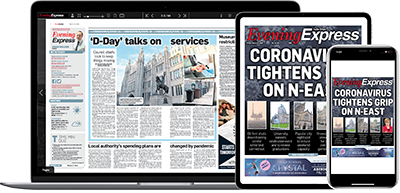 Help support quality local journalism … become a digital subscriber to the Evening Express
For as little as £5.99 a month you can access all of our content, including Premium articles.
Subscribe