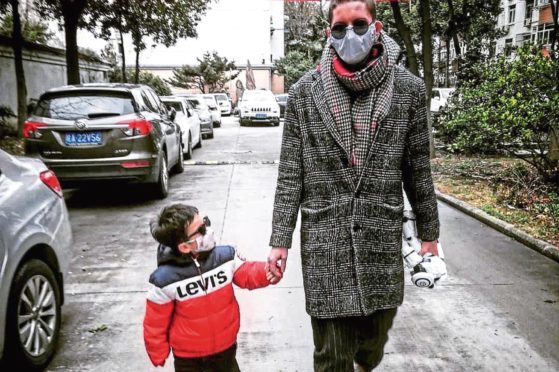 A north-east man who was in isolation in China for two months has revealed some tips to help residents cope with the new lockdown rules.
Richie Cormack is from Ellon but lives in Hubei with his wife and son where he runs a restaurant.
They were quarantined in their home for eight weeks and only allowed to leave the house for essential trips to the supermarket.
However, things are now getting back to near normality in Hubei with no new cases being confirmed there in a fortnight.
Richie has reopened his pub and restaurant and, although he thought the isolation measures were extreme at first, has now realised they do work.
He said: "My top tips to help you through isolation would be to first make sure the rules in your household concerning hygiene and social distancing are agreed upon and followed by all family members.
"In this stressful time, you are going to be spending more time with your family than you have probably ever done before.
"Even simple things like someone not taking their shoes off when they get in the house can quickly spiral into a heated argument.
"Second would be if you are alone to use technology to keep in contact with family and friends, but try to turn off any device for about an hour or so before sleeping.
Quarantined north-east musician pens song on experiences of coronavirus victims
"Third would be that this is going to get a lot worse before it gets better. Prepare yourself for this.
"The day is going to come when you're going to check the news in the morning and the number of cases and deaths is going to explode.
"It will feel at times like it will never end, but trust me, it will. For now, self isolation is the only way to make this better.
"Try not to panic and show calm to others around you to help them out as much as you can."