A student is to make her directorial debut with her film about a debilitating disease in a bid to raise cash for charity.
Katie Low, 18, a North East Scotland College media and communications student, is showing her first film at The Belmont Filmhouse while raising funds for Alzheimer Scotland.
The 15-minute film Remember Me is based on her grandmother's battle with Alzheimer's.
The story centres around 55-year-old Anthony, portrayed by Roughnecks actor Alec Westwood, who slowly begins to lose his memory.
The film shows the impact the disease has on those who have it and the people around them.
Katie, from Ellon, said: "I came up with the concept for the film because my granny, Ishbel Fox, had Alzheimer's.
"I wanted to raise awareness about it. It's a terrible illness where you start losing yourself.
"This tells the story of a man who goes through it and slowly you can see how it affects him and his family."
Katie said the film was a labour of love and she knows her grandmother would be proud of her project.
She said: "I'm looking to start a media course at RGU and I'd like to make more films about mental health to raise awareness.
"This is the hardest I have ever worked in my life.
"It took so much time and passion and to finally see it come together is great.
"I know my granny would be very proud of me – I'm also really proud that I can do something in return for the charity."
Alec, known for his role Davey in BBC1's Roughnecks in the mid '90s, said: "When I read the script, I knew I had to do it.
"I couldn't believe it had been written by an 18-year-old.
"Everyone working on the film did it free of charge. I think it's a great thing to get the word out there about Alzheimer's and raise money for the charity."
The film took 18 months to film and features a full Aberdeen cast. It was also filmed entirely in the city.
It premieres today at 1pm and all proceeds from the ticket sales will go to Alzheimer's Scotland.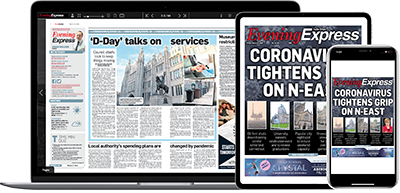 Help support quality local journalism … become a digital subscriber to the Evening Express
For as little as £5.99 a month you can access all of our content, including Premium articles.
Subscribe