Judy Murray has backed calls for tennis courts at a north-east park to be resurfaced and have floodlights installed.
The coach and mother of Wimbledon champions Andy and Jamie Murray voiced support for work to improve two tennis courts at The Den play park in Auchenblae.
Judy founded the programme Tennis on the Road in 2015 to help build a workforce to deliver starter tennis to adults and children.
Lead coach of Tennis on the Road Kris Soutar said: "The Den at Auchenblae play park, with two tennis courts end to end, would be a lovely spot for a nice game of tennis on a summer's night.
"No houses nearby – so perfect for floodlights and a resurface."
Judy pledged to build a workforce for the community if the courts were fixed.
She said: "Looks like a gorgeous setting. Perfect for families and community engagement.
"If (they) fix the courts, I'll build a tennis workforce from the local community."
The response to Judy's offer for the Den, which is owned by the Auchenblae community, has been positive.
Lindsay Shaw, treasurer of Auchenblae Tennis Club, said: "It is encouraging that she has reached out about this.
"The Den has a number of facilities that we have to find funding for their upkeep.
"The courts are made of a surface called blaes, and they are not in bad condition for that type of material, but they are not perfect.
"They do flood and we can't use them in the winter.
"We are looking at options such as lottery funding and local wind farms.
"I would be enthusiastic to see them revamped. We would welcome any support from Judy Murray and are keen for anyone to get involved."
Councillor George Carr, who represents the Mearns ward, said: "I am very supportive of any initiatives to improve the tennis courts and wider area.
"It's always good to get the support of the community for ventures like this, and their backing is a great asset."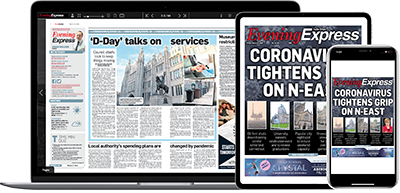 Help support quality local journalism … become a digital subscriber to the Evening Express
For as little as £5.99 a month you can access all of our content, including Premium articles.
Subscribe