Video: Jude Law admits Doric accent 'didn't go down well' in Aberdeen
Hollywood star Jude Law has appeared on a US talk show and admitted his Doric accent "didn't go down well" in Aberdeen.
The Fantastic Beasts star was appearing on The Late Late Show With James Corden when the topic of accents came up.
Sitting alongside fellow guest Steve Coogan, who was promoting his new film Stan & Ollie – directed by Peterhead film-maker Jon Baird – the 45-year-old actor described the challenges of the Doric accent in his 2014 thriller Black Sea.
He said: "I did a film set on a submarine once and the director was Scottish, Kevin Macdonald, and he decided that Robinson, the character I played, should be a Scot. And we decided that Aberdeen was probably a good place for him to come from."
His throaty attempt at the accent, in which he pronounced Aberdeen "Abuldun", prompted host Corden to ask: "So you just had to pretend to be a bit simple? That's what it sounds like."
Law said: "I went up there to sort of hang out and listen and, of course, you don't want to be caught in Aberdeen pretending to be from Aberdeen. It didn't go down very well."
Doric expert Professor Peter Reid, from Robert Gordon University and who sits on the North East Scots Language Board, said: "It's a pretty lame attempt in my opinion. It is just a slow drawl he has on.
"I actually couldn't understand part of what he was saying."
He added: "Mr Law might be a great actor but I don't think he'll be passing as an Aberdonian any time soon."
---
---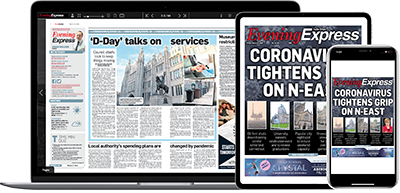 Help support quality local journalism … become a digital subscriber to the Evening Express
For as little as £5.99 a month you can access all of our content, including Premium articles.
Subscribe