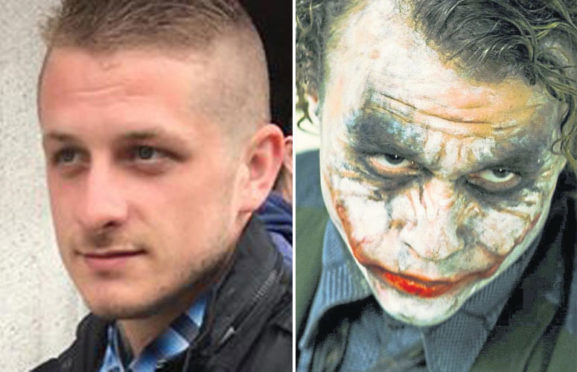 A reveller attacked by "the Joker" as he enjoyed a Halloween night out in Aberdeen with pals today said he is still reluctant to go out with friends nine months on.
Ross Geddes needed surgery and spent a night in hospital after a yob dressed as Batman's arch-enemy repeatedly punched him outside Prohibition nightclub on Langstane Place, Aberdeen, on October 28 last year.
His attacker Kristian Marr, 24, was spared jail when sentenced at Aberdeen Sheriff Court yesterday.
He must do 200 hours of unpaid work and pay £1,000 compensation.
After the hearing, Mr Geddes, 20, said: "I am glad it's all over.
"I feel I can move on with my life now. My mouth is still numb after all these months – the type of feeling you get after you've been to the dentist."
The former Kemnay Academy pupil, who stays in Inverurie, added: "I'm not surprised he has been given a slap on the wrist.
"I just hope he will learn from it and not do anything criminal again.
"I've barely been out with my friends since it happened.
"I went out once on New Year's Eve but being attacked has left me reluctant."
The altercation between the two, outside Prohibition nightclub on Aberdeen's Langstane Place on October 28, left his victim recuperating in hospital.
Dressed as Batman's nemesis, the inebriated Marr had been wearing white face paint with a red lipstick smile and a purple suit at the time of the assault.
At Aberdeen Sheriff Court yesterday, Marr's solicitor David Sutherland accepted his client "had far too much to drink" and as a result had "no recollection" of his actions.
Nonetheless, he said the 25-year-old was filled with "remorse and shame" and had completely abstained from alcohol since the incident.
The solicitor said his client had plans to monitor his intake should he decide to partake again in future.
Sheriff Jack Brown told Marr he had come dangerously close to being imprisoned.
He said: "You have pleaded guilty to assaulting an individual you didn't know for reasons which seem unclear.
"That resulted in Mr Geddes receiving serious injuries as a result of which he will suffer permanent impairment.
"He has a strong lack of feeling in his bottom lip and his confidence has been shaken because of your actions.
"I am just persuaded that I can deal with this case without sending you to prison."
Marr was ordered to carry out 200 hours of unpaid work over the next nine months and told to pay Mr Geddes £1,000 in compensation.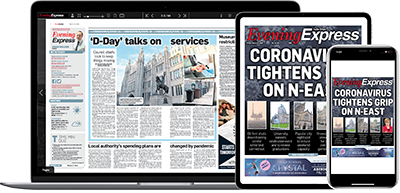 Help support quality local journalism … become a digital subscriber to the Evening Express
For as little as £5.99 a month you can access all of our content, including Premium articles.
Subscribe