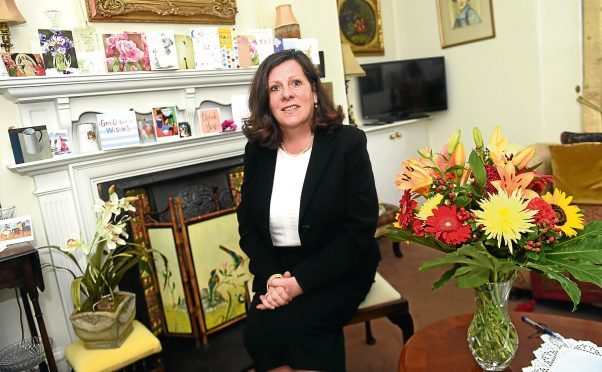 An Aberdeen councillor who made a shock exit from her party to form the council administration today said she felt "overruled" by the men in her former group.
Councillor Jennifer Stewart surprised those in the council chamber when she chose to leave the Liberal Democrat group last month, two weeks after the council elections, and join the coalition as an Independent along with Labour and the Conservatives.
Cllr Stewart said she felt the two weeks of negotiations between her former party, who later decided not to enter any coalition, were "a bit false" and she felt she was being "overruled by men".
She added: "I want to make it very clear that when I stood on the podium I was a Liberal Democrat.
"It was only during the two weeks of the negotiations, which I felt were a bit false, and I was concerned how they were developing.
"As Liberal Democrats we had always said we would not get close to SNP.
"That was the decision we had taken and I felt like that was exactly what was coming.
"I did make my colleagues aware of how I felt. But what I felt was I was being overruled by men and I'm fed up, at the age of 53, of being told what to do by men."
The former Liberal Democrat councillor said she felt dictated to, in terms of the decision.
She added: "I think politics is a dirty game, I didn't realise it until I experienced it.
"And if you look at how many women there are in the chamber, I think it's harder for women.
"I don't think that that's right.
"What I would say is women have to try harder, it's not that we're any less smart, far from it.
"It's just how it is and I think as a woman you have to try that bit harder.
"But in terms of the group, why is it men that dictate what goes on?
"Liberal Democrats would always say everybody is equal but to me it just seems men are a bit more equal than women.
"Look at it. Otherwise why is there not more women councillors?"
The councillor said she has come "a wee bit under the firing line" over the decision.
She said: "They did know I was very unhappy. I have not committed a crime. I have done nothing wrong, other than standing up, I have put my neck on the line.
"There are Liberal Democrats who have left the party. I'm not the first, Councillor Reynolds did."
"There are Liberal Democrat councillors who have done things that are seriously wrong ending up in imprisonment.
"There are Liberal Democrat councillors who kerb crawled, checked porn, these are things I don't do.
"At the end of the day, I've done nothing wrong, I'm just Jennifer Stewart, I'm just Jennifer Stewart without a political title."
And Cllr Stewart, who represents Hazlehead, Ashley and Queen's Cross, stands by her decision to step away from the group.
She added: "It was a difficult decision and three weeks down it's still a difficult decision. I've looked at the video on the council webcam and I just thought how open and vulnerable I was when I stood up and said I'm not doing this anymore, I'm standing aside. And you can see how honest I was and how much I was putting my neck on the line because I really still believe it's doing the right thing.
"Given the support that people have shown me, letters, cards, flowers sent to me, saying they recognise it was a hard decision for me, they thought I was courageous and brave but truly believed, as I believed, doing the right thing for the city.
"What I have done is put the people first, put the public first and put the city first and I've made politics second.
"I'm here to serve my constituents, that was my priority, I'll help people whether they vote or for whatever party they stand for, I'm here to help them.
"And judging by my surgery they're not really bothered who I represent and are happy to come to see me."
The Independent councillor wants to strongly refute any suggestion from political rivals that she had a position "lined up for herself" and only decided she would leave her party 15 to 20 minutes before the meeting.
She said: "I didn't have anything planned, I didn't have, as has been said to me, my ducks in a row.
"I've been accused of having a position lined up for myself.
"That's not correct, I've been given a position as vice convener of planning and I'd like to make that crystal clear, that is not a renumerated post.
"So whether I was in post or not in post, there is no financial gain.
"There is absolutely no financial incentive for me to do what I did other than be the voice of the public.
"At the door people consistently said to me do not let SNP run the council. For clarity, nobody wanted to work with the SNP.
"That's the reality, Labour didn't, Conservatives didn't and I felt it would be far better for this city if good people come together to run the city rather than have SNP run it and that's not what the public wanted. It wasn't just me who couldn't work with the SNP, none of the groups wanted to work with them because their whole thing they want to do is about independence and a referendum.
"And they relate a lamppost getting repaired or a street getting resurfaced, any small concern like that, it's all brought back to independence and a referendum.
"It's not about Mrs Smith in Hazlehead needing something done, needing a food parcel, needing someone to stand up for her and fight her corner, it's not about that."
In terms of her top priorities, Cllr Stewart said she wants to see the regeneration of Union Street, get Hazlehead Pool reopened and to put education to the forefront of the council's policy agenda.
She added: "When I was first elected in 2007 they asked us as potential candidates how did you want to be seen and I said I saw myself as the people's councillor and I think my past 10 years have proved that. That is what I am."
Councillor Ian Yuill, Liberal Democrat group leader, said the party is "very disappointed" by Cllr Stewart's behaviour.
He added: "We had no warning of what she was going to do.
"The first we heard was when she stood up in the council chamber. As for being overruled by others, our group operates on a democratic principle and that means when we have a difference in opinion we try and reach a consensus and when that's not possible we have a vote. We do not operate a whip and members are always free to vote as they wish."
Cllr Yuill added the party has had two female leaders in recent history including former councillor Kate Dean who was leader for around 10 years.
His Liberal Democrat colleague Councillor Steve Delaney said the group has "always been inclusive".
He added: "If anything we would spend more time than we needed to be sure people are happy before any decision.
"There have been many women over the years who have risen through the ranks and have gained an enormous amount of respect.
"We want people to excel at what we do and I'm a bit disappointed at those types of comments.
"As far as the decision, we made a decision on whether or not to go into a coalition and we did discuss at length and were able to conclude we would better represent constituents from the point of constructive opposition.
"We were all part of those discussions and clearly Jennifer must have taken a different view in the result and realised she was joining the coalition."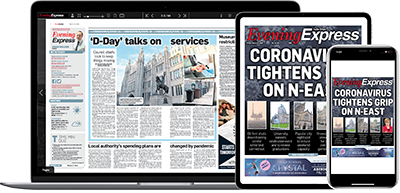 Help support quality local journalism … become a digital subscriber to the Evening Express
For as little as £5.99 a month you can access all of our content, including Premium articles.
Subscribe