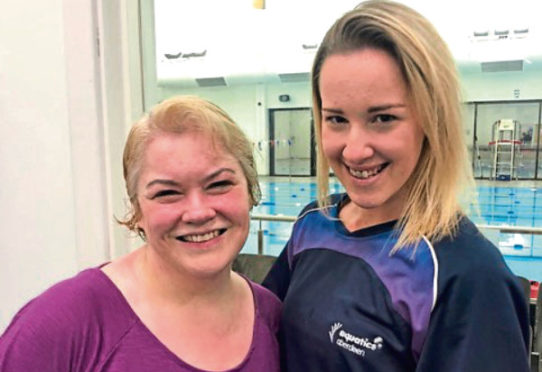 For Aberdeen mum of three Sharon Mathers, attending her first swimming lesson aged 47 left her feeling petrified.
But a year and a half on, not only has she become a natural in the pool, the school worker has used her new skill to help a good cause, swimming 2.5km to raise £400 for Cancer Research UK.
Denied the opportunity to learn as a child, it was her own children who inspired Sharon to learn to swim – and now she is encouraging other adults to take the plunge.
"Swimming has genuinely changed my life. I would say to any adult who cannot swim – do it. Once you've made it through the door, you'll realise you aren't the only one."
Sharon, of Summerhill Road, Aberdeen, grew up in Perthshire and the closest pool was a 40-mile round trip.
She said: "My mum worked shifts as a nurse and my dad worked offshore.
"It was impossible for them to commit to taking me and my sister to lessons so far away.
"We'd splash around in pools on holiday and paddle in the sea but neither of us could swim.
"My mum and dad can't swim either."
Sharon, who is a parent support adviser at Hazlehead school, has three children – Poppy, 15, Kirsty, 12 and Tess, nine,
She said: "My children had all been involved in Aquatics Aberdeen since they were each about six months old so I knew what was involved in learning. They were an inspiration.
"When I decided I was going to learn it was obviously where I was going to go. Many pools don't have an adult program which is such a shame."
Sharon enrolled in classes on Tuesday evenings at the Sport Aberdeen leisure centre at Cults Academy in October 2017.
"I'm not a confident person, I have very low self esteem and body hang-ups that could sink a ship," said Sharon.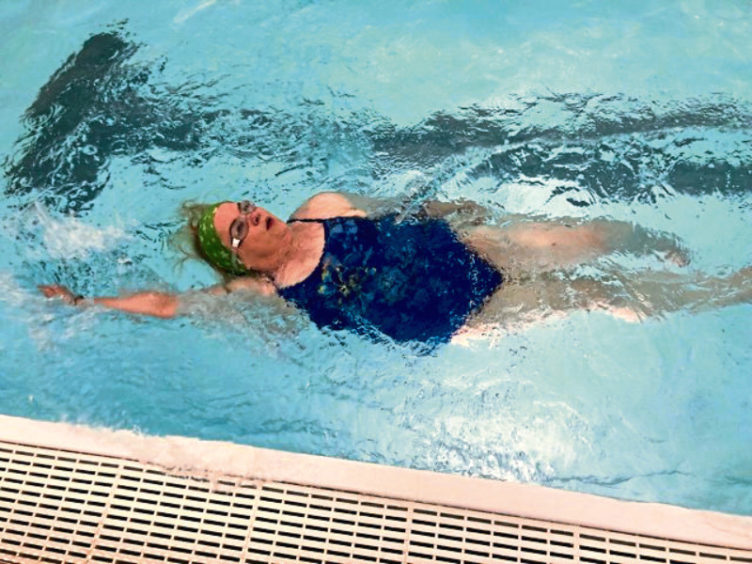 She added: "The first week I went to my lesson I was petrified. In fact, sending the first inquiry email I was petrified.
"I started aged 47 unable to swim a single stroke.
"At my first lesson, we worked on getting my face in the water and blowing bubbles.
"I learned everyone is super friendly, supportive and understanding and no one cares how you look.
"On March 31 this year I completed my Swimathon challenge – 2.5km or 100 lengths in about 90 minutes raising £400 in sponsorship.
"I have never ever pushed my body physically and the confidence I've gained in knowing I can set myself what seems like a ridiculous challenge and meet it has been amazing. All my family and friends, and especially Leigh-anne Alexander, my swimming teacher, have been so proud of me.
"From my trepidation at going to my very first lesson to now, everyone has been really supportive and has said what an amazing thing it is to do.
"The pupils at the school where I work find it a bit strange I'm having swimming lessons, but when I tell them I swim three or four times a week and often do 1,000m they are amazed."
Leigh-anne said: "Sharon came into my class back in October 2017, nervous and anxious as she couldn't swim a single stoke or even blow bubbles.
"She was also nervous of what people might think of her.
"I remember asking her in the first lesson what she wanted to achieve in swimming and her answer was 'well darlin', my kids can swim and I can't even put my face in the water so I would like to just be able to float and maybe do a few simple strokes'. Well, she's achieved more than that. She went from not being able to put her face in the water to swimming 100 lengths."
She added: "Being a swimming teacher has got its challenges, but it's all worth it when you see someone, whether it's a child or an adult, get excited and proud of themselves when they achieve something they thought they weren't ever going to be able to do, and you were a part of it.
"I am one very proud swimming teacher."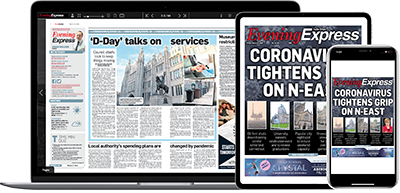 Help support quality local journalism … become a digital subscriber to the Evening Express
For as little as £5.99 a month you can access all of our content, including Premium articles.
Subscribe