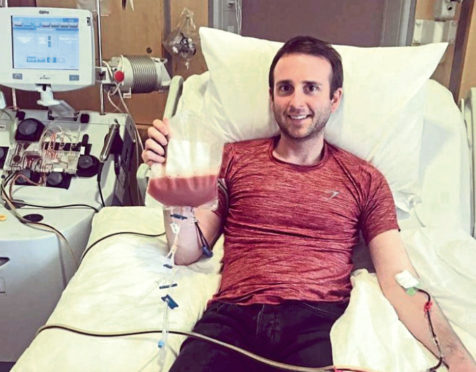 When Paul Flecher-Herd's friend Cammy Smith lost his fight with leukaemia, he decided to donate his stem cells to help others. Now the 27-year-old from Kingswells writes about his experience and hopes others will follow suit
I decided to sign up to the Anthony Nolan register after my friend Cammy Smith passed away in 2014.
He was an inspiration to everyone and I wanted to keep his legacy alive.
I signed up because Cammy had a stem cell transplant, and although he ultimately lost his fight, because of his donor's amazing gift he had six months with his family that he wouldn't otherwise have had.
Hopefully I can make a similar difference. Whether it saves someone's life or gives them the chance to spend precious time with their family, it's such a special gift to be able to give.
When you sign up they send out a swab kit to find out if you're able to sign up and you send it back to them. It doesn't happen straight away – it took nearly six years – but you could get a call any time to say you're a potential match for someone.
I've also been appealing for people to sign up to the Anthony Nolan register and so far, there are 55 that I know of.
I originally targeted 20 so it's been going brilliantly.
I actually got some statistics through from the trust saying there has been a 15% increase in people signing up in the Aberdeen area since I went public with my story.
One thing I would like to see is donating becoming like jury service.
A lot of people I have spoken to have been really keen to sign up but they are worried about what their boss will think about them taking time off.
My employers, Aberdein Considine, were really supportive but I'd like to see it become the case that employers have to grant people time off to go and donate. You are potentially saving a life and nothing is more important than that.
For the procedure itself, me and my mum Michelle went down to London the night before. We went to the clinic and they told us that my appointment would be at 9am.
When I arrived in the morning the nurses were really accommodating and kind and that definitely helped a lot.
The process started with a couple of blood tests and then they put a needle in each arm.
The way it works is a machine takes blood out of one arm, puts it through a machine which takes the cells out and then puts it back in the other arm.
---
---
It took about four hours and I donated 5.8 million stem cells.
The only real difficulty you have is the length of time it takes. I wouldn't say it's relaxing but it's certainly not painful and they make sure you're really comfortable.
Straight after the donation and for a couple of days afterwards I was feeling fine. It does leave you a bit fatigued but that only hit me a day or two later.
I still feel a bit tired but they did tell me beforehand that it can take a few days for things to get back to normal.
The whole time I kept reminding myself that me feeling a bit tired is nothing compared to what the recipient is going through.
My cells will have been transported on the same day I donated them – they could be going anywhere in the world.
Everything has to happen within 72 hours so it's a quick turnaround. It's a race against time.
When the procedure was finished it was a bit emotional because it really hit me, what I could have done for someone.
It's a wonderful gift to to give and it's an experience I'll never forget.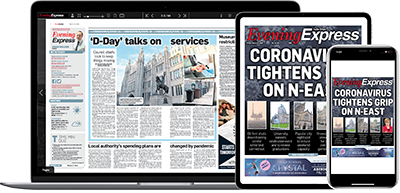 Help support quality local journalism … become a digital subscriber to the Evening Express
For as little as £5.99 a month you can access all of our content, including Premium articles.
Subscribe