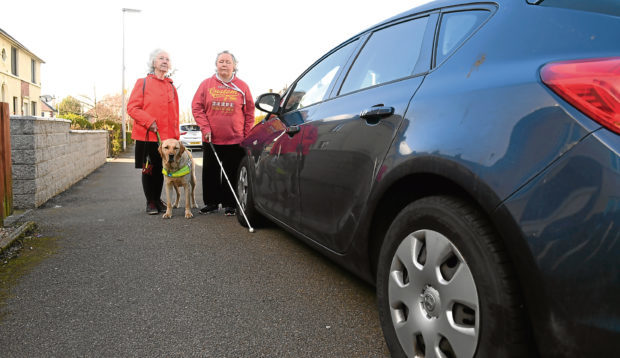 Two blind women have hit out at "thoughtless" drivers parking on pavements in Aberdeen
Mary Rasmussen, 75, and Amanda Burt, 48, have spoken about the difficulties they face on a day-to-day basis due to motorists leaving vehicles on footways.
The pair are hoping to educate people about the problems it causes for those with visual impairments and the "dangerous" and "stressful" situation it puts them in.
Mary, who is chairwoman of the Aberdeen branch of Guide Dogs and owns a guide dog, said: "The issue of cars parking on pavements is something that people aren't really speaking about.
"What it means for us is that if we come across a car parked on a pavement then a guide dog will go up to that space and sit and you know immediately that there's something in the way so you put your hand out and feel around.
"Then you invite the dog to try again, so you turn all the way round and you ask him again to go forward.
"If he can't, he will then indicate the kerb with the idea that you can walk around this parked vehicle.
"But if the parked vehicle is on a very busy road, the dog's only alternative – because he can't walk round the car into the oncoming traffic – will be to cross to the other side of the road.
"If it's a very busy road like the one I live on, I would have to go right across to the other side of the road and then walk along and try to get back across the road, so it's a huge undertaking.
"It's terribly dangerous."
Amanda, who uses a long cane, said: "It's very difficult because obviously you don't always hear a vehicle as you're walking towards it.
"The first thing you might encounter is the car or the van on the pavement so you have to think 'what do I do? Do I just go around it on the pavement?'
"If you're crossing the road, you've got to step off the kerb in the first place and it's really quite dangerous. It's such an obstacle."
She added: "Sometimes the drivers – if they're in there – are not always the most helpful of people.
"They might say they've got to make deliveries or something."
Mary, who lives near Broomhill School, also told of the problems she encounters with parents – with some refusing to move or turn their vehicles off so her dog will pass.
She said: "Very often parents are parked on the pavement with their engines running and that is really scary because as a blind person you have no idea what they're planning to do – are they in the car? Will they reverse?
"My dog won't pass it if the engine is running, so I would knock on the car and ask them to switch their engine off and they don't hear you because their radio's on, so you ask the next person that's coming along if they could ask them to switch off their engine.
"The last experience I had of that she just said no."
Amanda, of Aberdeen, added: "They can also open the door at any time, and I experienced that once when a car was parked on the pavement and suddenly the car door suddenly opened and she told me to watch where I was going.
"It's really quite stressful."
Mary is now hoping that by educating the public, awareness of the issue can be raised.
She said: "I just think if we could make everybody aware through Guide Dogs it would make such a difference.
"I have been quite involved with doing talks to schoolchildren and adult groups and people will say things like 'I didn't know that' and we're just talking about common sense things like looking before you open your car door on the kerb side."
She added: "It is usually thoughtlessness.
"Children very often will say to their parents 'don't park there' or 'don't speak to the dog, he's working' so we are hopefully over the years educating the next generation."
An Aberdeen City Council spokeswoman confirmed the authority is looking at ways to make the city more disability-friendly and tackling obstructive parking.
She said: "Aberdeen City Council has previously implemented footway and verge parking restrictions in a number of areas of the city where obstructive parking has caused safety concerns for pedestrians.
"Recently council officers have been participating in Transport Scotland-led work, aimed at tackling obstructive and irresponsible parking, through the forthcoming Transport Bill."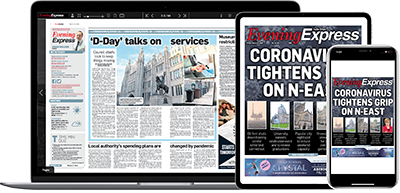 Help support quality local journalism … become a digital subscriber to the Evening Express
For as little as £5.99 a month you can access all of our content, including Premium articles.
Subscribe