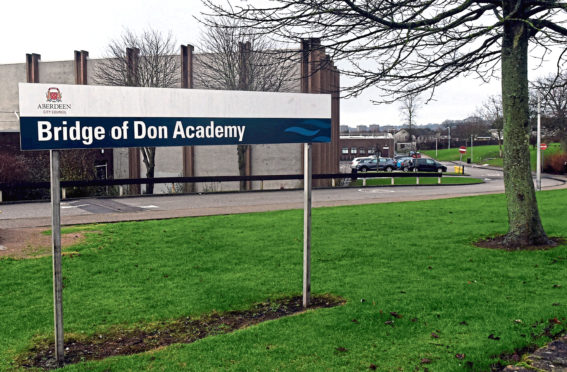 A health and safety watchdog has said it is "satisfied" with the procedures Aberdeen City Council has in place to prevent another incident where school staff are exposed to asbestos.
The local authority was ordered to improve after an investigation last year found an asbestos incident at Bridge of Don Academy contravened health and safety law.
The Health and Safety Executive (HSE) ordered the council to improve its level of training in the wake of its investigation.
A new report, which will be considered by members of the staff governance committee on Monday, said council officers met the investigating HSE inspector on February 13 to discuss remedial actions taken.
The report said: "The HSE inspector reported that they were satisfied with the procedures which Aberdeen City Council had in place and any remedial actions taken during their review to prevent a re-occurrence of a similar Bridge of Don-type incident.
"They were also satisfied that the remedial training which had been rolled out to front line staff was suitable and sufficient to allow staff to have the knowledge to be able to respond correctly in cases where asbestos is discovered or disturbed during their work."
---
---
The report added inspectors were "content" the processes to follow in these circumstances were in a step-by-step document, which allowed reference if such an incident occurs in the future.
In August it emerged that up to 25 members of staff accessed the building in the days following the discovery – because a line manager "forgot" to report it.
Teachers, janitors, cleaners and other workers were allowed on the site following the incident in July.
Bespoke asbestos training was provided to frontline staff in the wake of the incident.
In addition to completing the HSE requirements, a new procedure for managing asbestos damage in the city's schools has been prepared and issued to schools.
This details guidance for all staff working in schools on the action to be taken in the event of potential accidental release of asbestos.